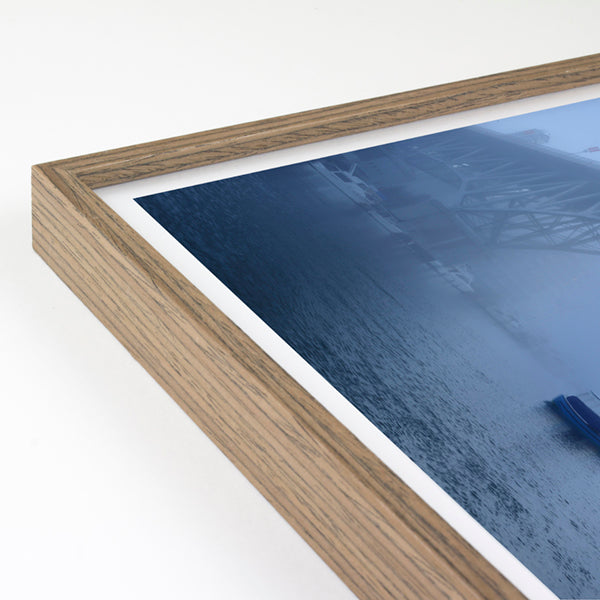 READYMADE FRAMES
Readymade Frames come in set standard sizes to fit artworks on paper, canvas, and panels, and are available in a selection of moulding styles and colours. They are generally the most economical choice for frames.
PRE-CUT FRAMING SYSTEMS
Pre-Cut Framing Systems allow you to create your own semi-customized frame as they come in pre-cut lengths and widths which can be mixed-and-matched to fit artworks on canvas, wood panel as well as works on paper.
CUSTOM FRAMES
Custom Frames offer the greatest control over the final appearance of their frame. Available in a myriad moulding styles – a quality custom frame can be built to a specific size and your choice of moulding, matting, glazing and backing for the ultimate frame.
Choosing A Frame Style
Whether you choose a Readymade Frame, Pre-Cut Frame or Custom Frame, there are 3 framing styles you can achieve...
Traditional
A framing classic that has stood the test of time, traditional frames have glass (or plexi) to protect the enclosed artwork, photograph, or certificate from dust and particles in the environment. Add a mat to the frame to give a finished appearance. Traditional picture frames come in a range of styles from casual to formal, making them a great choice for display in galleries and museums, at home, or in other professional settings. Available in wood, metal, or veneer.
Shadow Box
When it comes to depth, shadow box frames make space to showcase! Risers installed inside the moulding of the frame raise the glass away from the backing, allowing for more space and depth (a "box") within the frame. The additional depth allows artwork to be framed with a mat, from edge-to-edge or float-mounted. Available in wood.
Floating Canvas
This minimal style of frame, with its off-set or "stepped" moulding, creates a subtle shadow around works on canvas, adding dimension to the artwork and giving it the appearance that it is "floating" within the frame. These frames allow the viewer's attention to rest on the artwork, while giving it a polished, professional look. Available in wood, metal, or veneer.
MATS, FRAMING
TOOLS & SUPPLIES
Explore our selection of framing mats, tools, and supplies. We have a wide selection of options that will assist you in completing your framing projects, from presentations to hanging and mounting.
Finishing with A Frame
For many artists, a frame is a final step; the last touch of polish before it is presented to the world. Finishing with a frame allows artists to present themselves in a more professional manner and increase the value of their artwork.
In this video, we visit the studio of North Vancouver artists Dene Croft and Kiff Holland for their insights on the importance and value of framing their artwork, and how they go about it.
NEW SERVICE!
OPUS FRAME ASSEMBLY
Would you like us to assemble your frame? Our team of specialists can help prepare your frame, whether it's readymade, pre-cut, or custom made!
Ask about a quote for our frame assembly service if you would like help putting all the pieces together – and relax as your masterpiece comes to life!
OUR FRAMING COMMUNITY
Share a picture of your Opus frame on Instagram using the hashtag
#FramingWithOpus
By submitting your artwork with this hashtag, you acknowledge that your photo may be used by Opus in social media posts and may show up on the Opus website.
Book A Frame Appointment
Save Time & Skip The Line! Please call the store you would like to frame with to book a time with our framing team.