Sakura Gelly Roll Glaze 3D Color Pen Set of 10
Regular price

Sale price

$34.99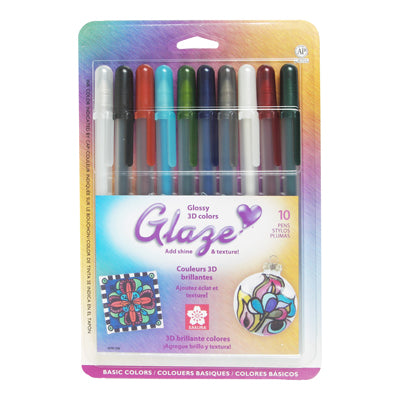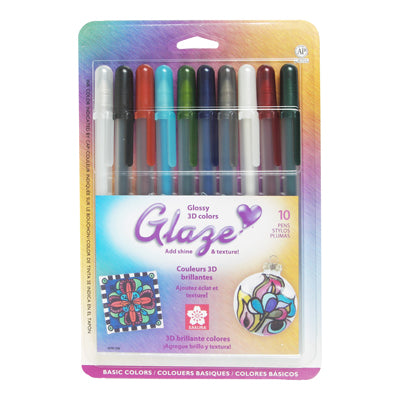 Sakura Gelly Roll Glaze 3D Color Pen Set of 10
Regular price

Sale price

$34.99
Available For Delivery:
(11 available)
Coquitlam

(4 available)

Downtown Vancouver

(5 available)

Granville Island

(5 available)

Kelowna

(6 available)

Langley

(6 available)

North Vancouver

(5 available)

Victoria

(5 available)

ECU

(0 available)
Add shine, gloss, and dimension to your work!
Glaze® is the first pen of its kind to offer 3D ink and glossy, vibrant colors. The 3D ink leaves a raised ink line for writing you can feel. Make DIY craft projects stand out with handwritten lettering that expresses emotion and adds texture. These special pens can write on non-porous surfaces such as plastics, coated papers, acetate, vellum, and glass
For a beautiful stained glass effect, use on translucent and transparent surfaces and hang in the window. Glaze ink also resists water and can achieve the look of batik. Make secret messages by writing with clear, then sponge on color to reveal the writing or drawing. Accenting rubber-stamped and paper craft projects with Glaze's shiny colors and texture looks similar to heat embossing or professional printing without the extra fuss.
For color availability see the Glaze color chart.
Glaze - 3D glossy ink pen features:
Write slowly so the ink flows out thickly and allow time to dry completely about 10 minutes.
A raised effect that is delicate and can be crushed-down
Waterproof on most surfaces
Use on light backgrounds, and on plastic, glass, ceramic and metal
Raised effect best on non-porous, clean, smooth, matte surfaces
Note: Glaze is a special craft pen for coloring or lettering. Since the ink flows thickly and takes time to dry it is not ideal for any lengthy writing.
The Sakura Glaze Pen Set includes 10 pens in Sepia, Turquoise, Hunter Green, Royal Blue, Gray, Opaque White, Real Red, Deep Green, Black, and Clear.
Like ve this brand
I've been using this brand of gel pens for a long while now, their whites don't really work for me well, but I love all their other ones
Beautiful colors!
Unfortunately, I'd hoped to use them to highlight words on thin paper, as package says 'archival ink'. (It wasn't until I'd opened the package and tried one that I noticed it also said 'opague' & 'Write on Dark Papers'.
So, to my disappointment the gel ink is visible when the book page is turned. However, the metallic colors are beautiful and perfect for writing on dark paper : )