Jacquard Neopaque Sneaker Series (8 Pack)
Regular price

$0.00 $0.00

Sale price

$79.90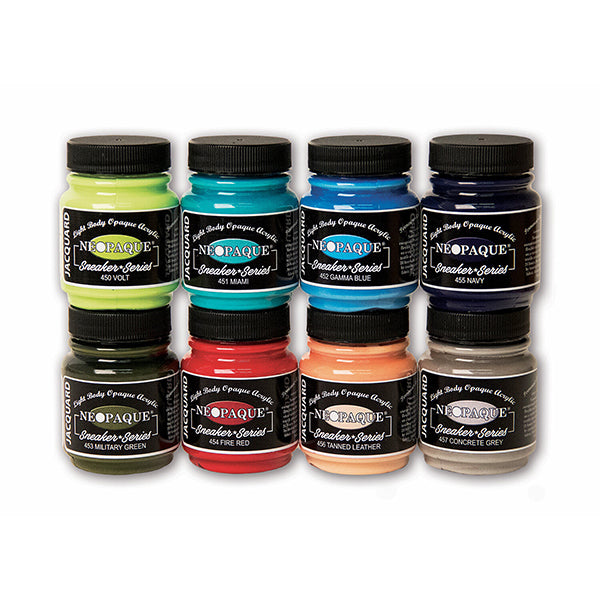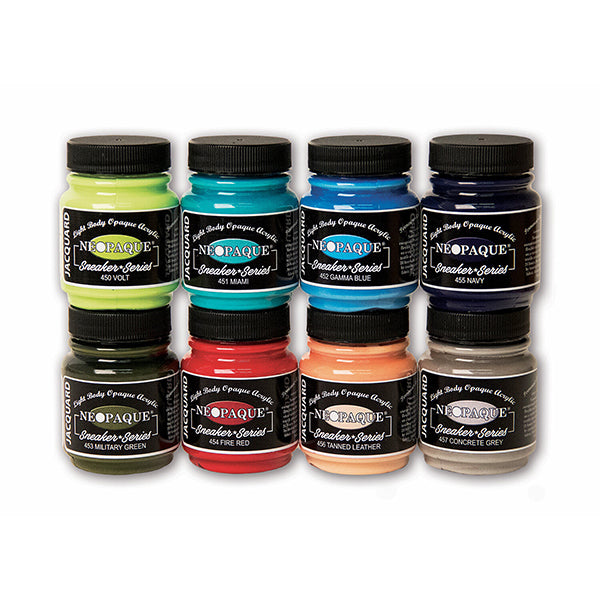 Jacquard Neopaque Sneaker Series (8 Pack)
Regular price

$0.00 $0.00

Sale price

$79.90
Available For Delivery:
(3 available)
Coquitlam

(2 available)

Downtown Vancouver

(2 available)

Granville Island

(3 available)

Kelowna

(4 available)

Langley

(2 available)

North Vancouver

(2 available)

Victoria

(4 available)

ECU

(0 available)
Jacquard Neopaque Sneaker Series set of 8 colours. These opaque craft paints are highly pigmented for dark and black surfaces including natural and synthetic fabrics. The paint can be made washfast after allowing it to dry and air cure for 24 hours and then setting it with heat.
The best method is to use a dry iron with a press cloth (cotton t-towel or pillowcase) between the iron and the painted fabric. Iron on hot for 30-60 seconds on both sides of the design.
Alternatively, Jacquard Neopaque can be heat set for 35-45 minutes in a hot dryer.
The paint does not need to be heat set on leather. Air cure for 7 days and clean with a leather cleaner without impacting the finish of the paint.
Jacquard Neopaque has exceptional adhesion on wood, canvas, clay, vinyl, plastic, rubber, stone, paper and more. A very flexible paint tht will not chip off or crack. (Durability improves the longer the paint is allowed to cure.)
All colours can be mixeed and Neopaque White can be added to create softer shades. The colours can be made more transparent by adding Jacquard Neopaque Flowable Extender or diluted with up to 25% water for a watercolour effect or airbrush colour. Try combining the paints with Jacquard Pearl Ex to make them glisten, or Jacquard Textile paints to extend the palette further.