Stillman & Birn Delta Softcover Sketchbooks
Regular price

$0.00 $0.00

Sale price

$16.90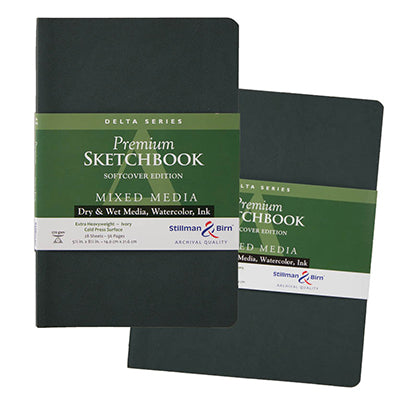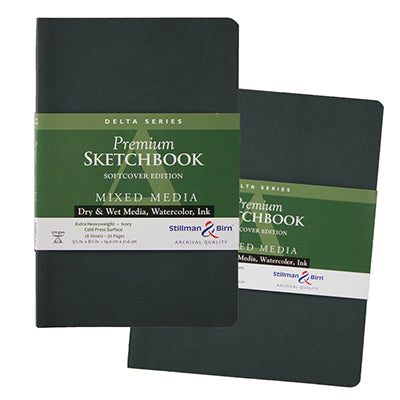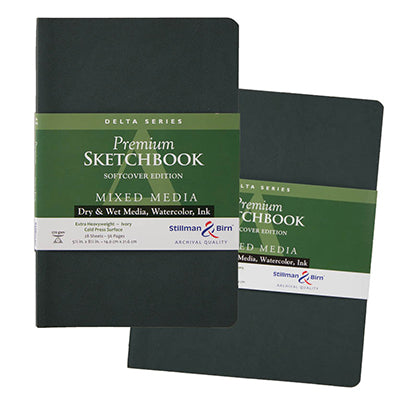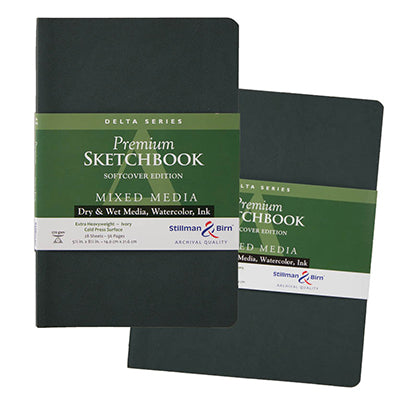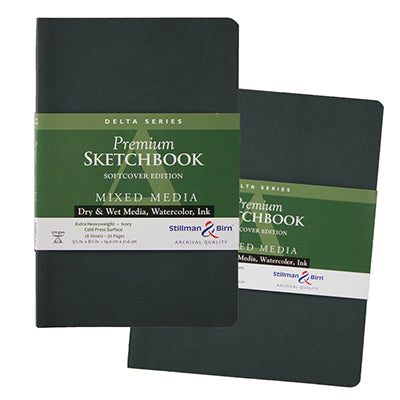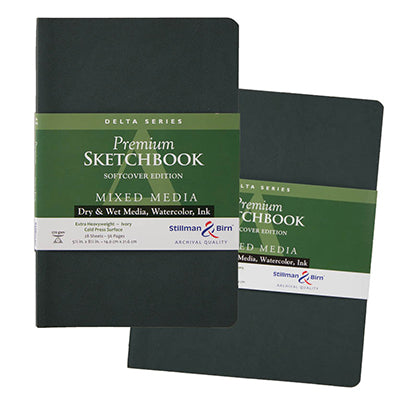 Stillman & Birn Delta Softcover Sketchbooks
Regular price

$0.00 $0.00

Sale price

$16.90
Available For Delivery:
(2 available)
Coquitlam

(2 available)

Downtown Vancouver

(0 available)

Granville Island

(5 available)

Kelowna

(3 available)

Langley

(2 available)

North Vancouver

(3 available)

Victoria

(0 available)

ECU

(0 available)
Stillman & Birn Softcover Sketchbooks provide you with exceptional sketching and drawing possibilities in dry or wet media techniques.
The Delta Series contains robust ivory, 270gsm extra heavyweight paper with cold press texture that offers a substantial tooth for all dry and wet media techniques. Internally and externally sized, it is the ideal surface to highlight vibrant watercolours and inks, as well as mixed media artwork. For a similar paper in an white tone, look to the Beta series.
While the paper inside is the true star, these books can be judged by their covers. Featuring rounded corners to prevent frayed edges, and the sewn bindings result in a flexible spine, allowing the books to open flat for working across two pages.
The supple, imitation leather cover paper, in green to denote the books in the Delta series, not only looks beautiful but holds up well with use. The softcover offers a smaller and more lightweight sketchbook when compared to a hardcover relative with the same paper size and number of pages, with a thinner profile and no overhang of the cover, making them the perfect art-on-the-go companion!
Really sturdy for a mixed media book
This book can take anything I throw at it - watercolour, ink, Tombow markers. It doesn't deep into the next page!
Do note it's still mixed media paper so heavy watercolour usage will make the paper warp slightly
Buy it. So worth it.
I purchased this about a month ago with the intention to use it for plein air painting. I love the dimensions as it's perfect for landscape painting.
Lovely Sketchbook
A quality sketchbook for mixed media urban sketching. The paper holds up well to ink and watercolour. The cover is nice quality as well.
The only sketchbook I'll use from now on!
I got this sketchbook a week before I left on an art residency trip to Norway this past summer 2022. I've always used bigger mixed media sketchbooks and this was my first small one, as I would be sketching on the go. It was perfect! I loved the off-white paper, it held both watercolour and pencil really well. You can see my finished travel sketchbook on my YouTube channel: https://www.youtube.com/watch?v=EbfTfRJGuOA&ab_channel=JuliaMartens
This is what I've been looking for!
I had been looking for a book that opens up flat. Without a spiral and has smooth paper that is good for dry and wet media and ink. The quality of the paper and the cover is the best I've seen. Durable and will hold together well.