Sakura Electric SE-3000 Eraser
Regular price

$0.00 $0.00

Sale price

$75.49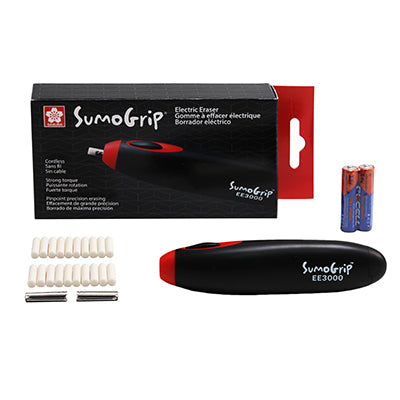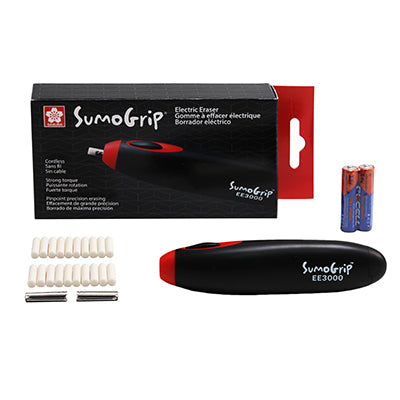 Sakura Electric SE-3000 Eraser
Regular price

$0.00 $0.00

Sale price

$75.49
Available For Delivery:
(2 available)
Coquitlam

(1 available)

Downtown Vancouver

(1 available)

Granville Island

(1 available)

Kelowna

(1 available)

Langley

(1 available)

North Vancouver

(1 available)

Victoria

(1 available)

ECU

(0 available)
Compact, Cordeless, and Capable
Professional illustrators, animators and architects' electric eraser of choice has been redesigned to a rounder and more ergonomic body for longer periods of use while still maintaining precise pinpoint erasing accuracy. Joining the SumoGrip family line, the pocket-sized eraser provides a firm grip and is best known for its high eraser capability and durability.
Avoid contending with bulky AC electric erasers, the AAA battery-powered motor ditches the cord and weighs only 2.9 ounces. With over 10,000 RPM, the strong torque makes it easy to remove graphite marks and create fine details to your artwork. Keep the handy eraser by your side for personal studio use or freelance commission work. Designed for comfort and control, the SumoGrip Electric EE-3000 is compact for storage and geared for mobility.
The SumoGrip Electric Eraser EE3000 Contains:
Battery powered motorized electric erase
Twenty additional white vinyl eraser refills for graphite marks on paper
Additional eraser refills available separately
Two eraser holders
Two AAA batteries