OLFA Heavy-Duty Snap-Off Replacement Blades 18mm Pack of 50
Regular price

$0.00 $0.00

Sale price

$41.90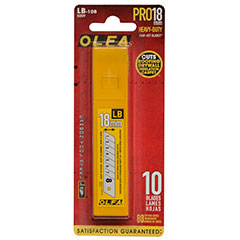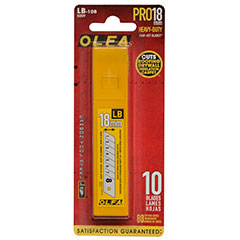 OLFA Heavy-Duty Snap-Off Replacement Blades 18mm Pack of 50
Regular price

$0.00 $0.00

Sale price

$41.90
Available For Delivery:
(5 available)
Coquitlam

(3 available)

Downtown Vancouver

(3 available)

Granville Island

(3 available)

Kelowna

(3 available)

Langley

(4 available)

North Vancouver

(3 available)

Victoria

(3 available)

ECU

(0 available)
Got a lot of heavy-duty cutting to do? The 18 mm Heavy-Duty Snap-Off Blades fit all the OLFA Heavy-Duty Snap-Off Knives.
These black blades are made 25% sharper than the regular silver 18 mm snap-off blades by means of a multi-step honing process. Ideal for cutting carpeting, linoleum, heavy plastics, light wood, and more.
Ultra sharp
Get precise cuts
8-segment 18 mm snap-off blade
Made from high-quality carbon tool steel
Ultra-Sharp black blade has a 25% sharper edge for less cutting resistance
Exact 59 degree edge angle optimizes cutting power and minimizes blade breakage
Fits OLFA PRO 18 mm utility knives
10 per package
Excelente
Easy to hold and work with it.