Jacquard Pearl Ex Calligraphy Set of 12
Regular price

$0.00 $0.00

Sale price

$36.80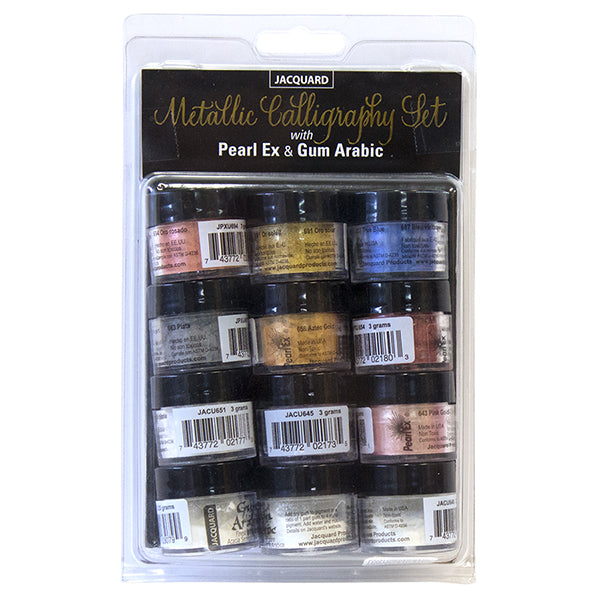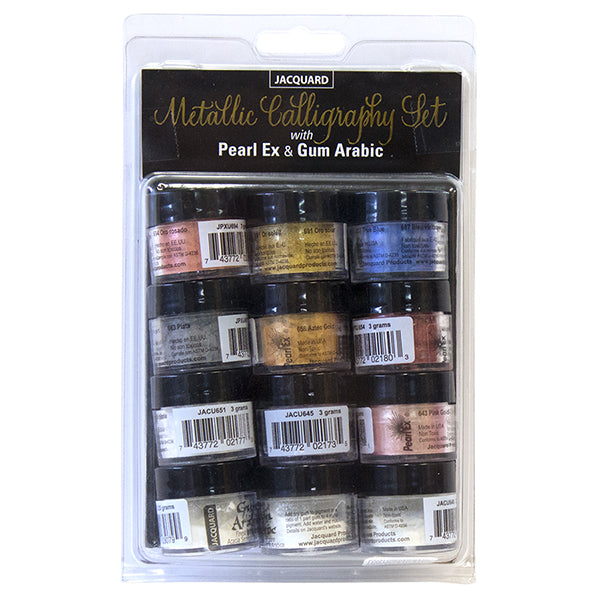 Jacquard Pearl Ex Calligraphy Set of 12
Regular price

$0.00 $0.00

Sale price

$36.80
Available For Delivery:
(6 available)
Coquitlam

(2 available)

Downtown Vancouver

(2 available)

Granville Island

(4 available)

Kelowna

(5 available)

Langley

(1 available)

North Vancouver

(2 available)

Victoria

(7 available)

ECU

(0 available)
Create your own metallic inks with fabulous shimmering effects!
Jacquard Pearl Ex is a metallic/pearlescent, archival mica pigment. The Calligraphy Set includes 9 Pearl Ex colours (3 g) and 3 jars of Gum Arabic (2.25 g).
How to make metallic calligraphy ink using Pearl Ex Pigments and powdered Gum Arabic:
1. Mix 4 parts of Pearl Ex pigment and 1 part Gum Arabic. Add water slowly, and stir to an ink-like consistency.
2. Stir until evenly mixed, no lumps or powder visible.
Note: Inks with a thinner consistency will lay flat on the paper when dry. Thicker consistencies will stand up and have a raised texture on the paper when dry.
Set includes: Rose Gold, Solar Gold, True Blue, Silver, Aztec Gold, Super Russet, Pearl White, Grey Lavender, Pink Gold, Gum Arabic (x3)