Iwata Custom Micron CM-C Plus Gravity Feed Dual Action Airbrush
Regular price

Sale price

$827.30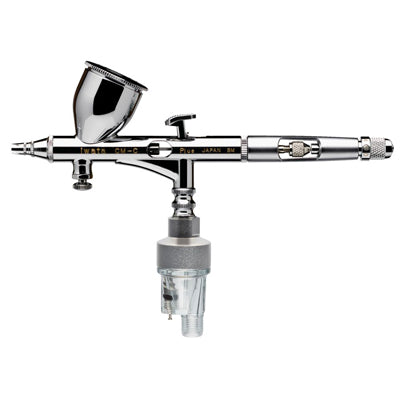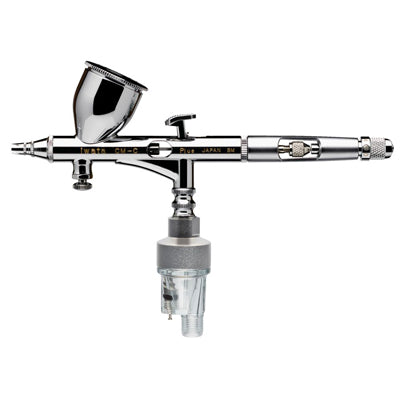 Iwata Custom Micron CM-C Plus Gravity Feed Dual Action Airbrush
Regular price

Sale price

$827.30
Available For Delivery:
(1 available)
Coquitlam

(1 available)

Downtown Vancouver

(1 available)

Granville Island

(1 available)

Kelowna

(1 available)

Langley

(2 available)

North Vancouver

(1 available)

Victoria

(1 available)

ECU

(0 available)
Experienced airbrush users who demand absolute precision choose Iwata Custom Micron Series airbrushes for extreme detail spraying. What makes Custom Micron special is that every head system is custom matched and hand-tuned to meet Iwata's rigorous performance standards for superior atomization. Replacement Head Systems are tested and tuned to the same standards to ensure that Custom Micron will maintain its precision over time.
Iwata Custom Micron CM-C Plus Gravity Feed Dual Action airbrush features a 0.24 oz / 7 ml fluid cup with lid that is ideal for colour mixing. The micro air control (MAC) valve enables incremental control of airflow for an ultra fine to medium spray. The ergonomic main lever is comfortable to use and the preset handle allows you to set the spray output, which increases your control while reducing finger fatigue. Iwata's spring-steel needle resists breakage and our needle packings are solvent resistant for longevity. If you like to remove the Crown Cap, you will appreciate Micron's Crown Cap Dock, which stows the cap when not in use.
Includes Iwata Lube, which is used to lubricate the Head Needle and Main Lever mechanism. Also included is our Iwata Pistol-Grip Filter that collects and evacuates moisture build-up, helping to ensure that your Custom Micron receives clean, dry air. Our Iwata Nozzle Spanner is included and may be used to remove the Head Nozzle. Store your Micron in its durable aluminium storage case. If absolute precision is what you are looking for, Iwata Custom Micron is a one-of-a-kind airbrush experience.
Spray Performance Category: Absolute Precision
Spray Scale: Extreme Detail to Medium
Optimal Working Pressure: 12 - 15 psi (0.08 - 0.10 Mpa)
Head System: C2 - Needle, Nozzle, Nozzle Cap
Nozzle Type: Screw-On
Feed Style: Gravity
Paint Capacity: 0.24 oz (7 ml)
Action: Dual
Handle Type: Single Cut, Pre-Set with Crown Cap Dock
Net Weight: 0.25 lb (0.11 kg)
Assembled Dimensions: 1.10 x 6.10 x 3.07 in (28 x 155 x 78 mm)
"