Faber-Castell Graphite Aquarelle Water-Soluble Pencil Set (HB, 2B, 4B, 6B, 8B)
Regular price

Sale price

$14.70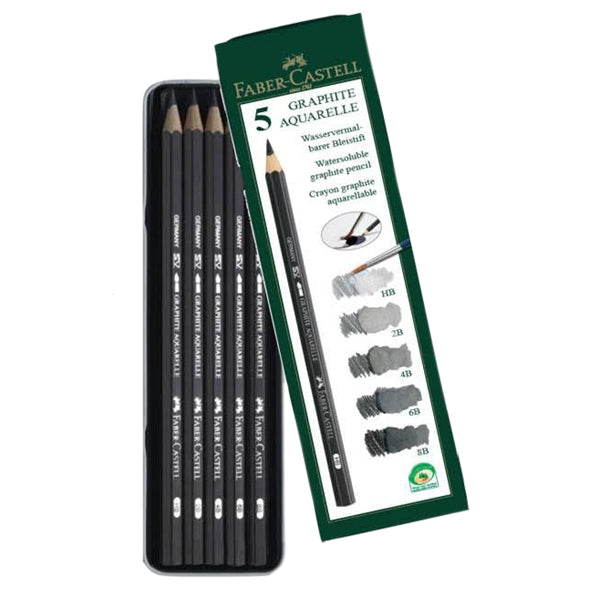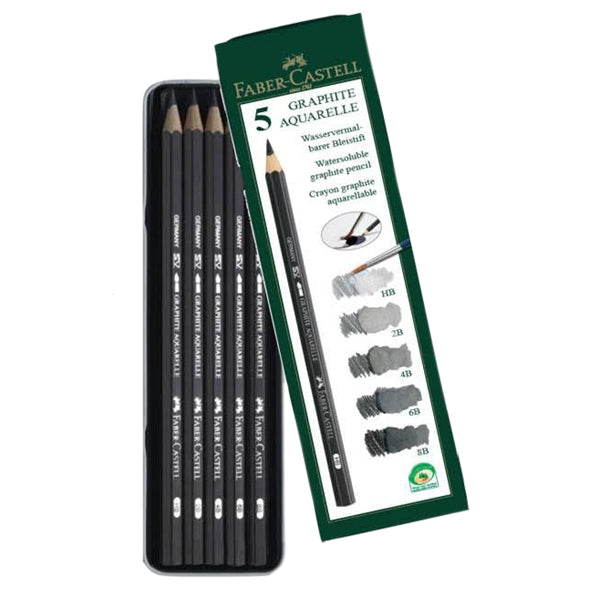 Faber-Castell Graphite Aquarelle Water-Soluble Pencil Set (HB, 2B, 4B, 6B, 8B)
Regular price

Sale price

$14.70
Available For Delivery:
(14 available)
Coquitlam

(3 available)

Downtown Vancouver

(2 available)

Granville Island

(6 available)

Kelowna

(6 available)

Langley

(8 available)

North Vancouver

(3 available)

Victoria

(5 available)

ECU

(0 available)
Bridge the gap between graphite sketching and watercolour, while creating beautiful washes and rich line work.
Faber-Castell Graphite Aquarelle Water-Soluble Graphite Pencil Set features five smooth water-soluble graphite pencils. Simply use a wet brush to transform parts of your drawing into a wash, or dip the pencil tip in water before you draw, creating a rich, soft, and smooth lines.
Perfect for watercolour painting, sketches, and mixed media. It's also great for quick on-the-spot drawings with a water-brush, or in the studio for more finished renderings. Use it without water to achieve classic graphite line work.
The leads in the pencils are bonded to prevent breakage, and are varnished with an environmentally friendly, water-based varnish.
The assorted set of 5 includes one pencil in each hardness.
Specifications:
Quality water-soluble graphite pencils
Ideal for sketches, watercolour drawings, and mixed media
Break-resistant 3.3 mm lead
Five hardness grade pencils: HB, 2B, 4B, 6B and 8B