COPIC Sketch Marker Set of 72 colors - Set A
Regular price

Sale price

$719.40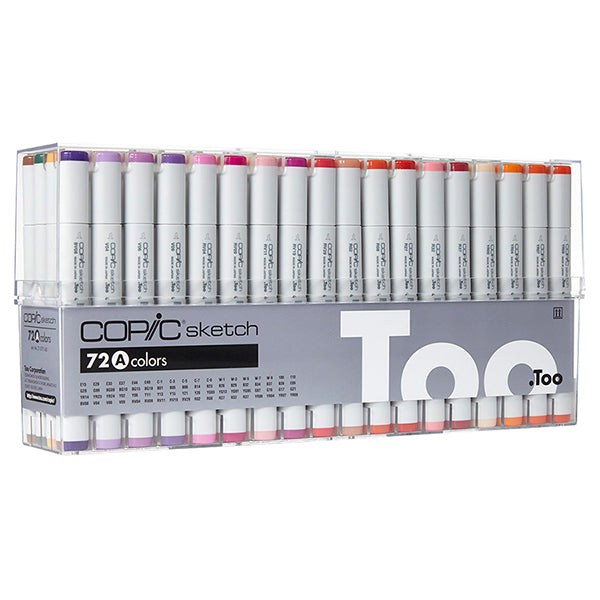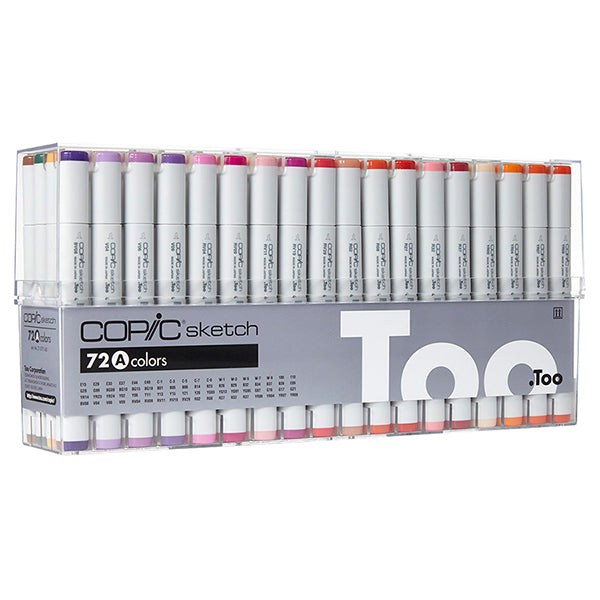 COPIC Sketch Marker Set of 72 colors - Set A
Regular price

Sale price

$719.40
Available For Delivery:
(1 available)
Granville Island

(1 available)

Victoria

(1 available)

Kelowna

(4 available)

Langley

(1 available)

North Vancouver

(1 available)

Downtown Vancouver

(1 available)

Coquitlam

(0 available)

ECU

(0 available)
Let COPIC markers help you add beautiful, creative linework and juicy strokes to your images.
COPIC Sketch Markers are fast drying, double-ended, non-toxic, and toner-compatible dye-based markers. COPIC ink is permanent and waterproof. It works well in conjunction with watercolours, coloured pencils and pastels. Since the ink is alcohol-based, it dries acid-free and quickly. If you run out of ink, various ink refills are available in all colours.
Colours are transparent, and are blendable when overlapped either dry or with the Colourless Blender. Try them on a variety of surfaces including paper, vellum, leather, wood, fabrics, plastic, faux fur, glass, and glazed ceramic. These markers have a Medium Chisel nib at one end, and a flexible Super Brush nib at the other. Loved by professional illustrators and designers, these markers are great for Manga, illustration, fashion design, and scrapbooking. Available in a range of colours, including the Colourless Blender.Packaged in a clear plastic case, these sets will be the ideal way to begin your collection of COPIC markers.
The Basic set of 72 markers contains: Cool Gray No.1 (C1), Cool Gray No.3 (C3), Cool Gray No.5 (C5), Cool Gray No.7 (C7), Cool Gray No.9 (C9), Warm Gray No.1 (W1), Warm Gray No.3 (W3), Warm Gray No.5 (W5), Warm Gray No.7 (W7), Warm Gray No.9 (W9), Black (100), Special Black (110), Mint Blue (B01), Process Blue (B05), Peacock Blue (B06), Light Blue (B14), Phthalo Blue (B23), Cobalt Blue (B26), Ultramarine (B29), Pale Blue (B32), Manganese Blue (B34), Antwerp Blue (B37), Prussian Blue (B39), Blue Green (BG09), Cool Shadow (BG10), Aqua (BG15), Teal Blue (BG18), Blue Violet (BV08), Burnt Sienna (E09), Dark Suntan (E15), Burnt Umber (E29), Sand (E33), Sepia (E37), Clay (E44), Dark Bark (E49), Nile Green (G07), Malachite (G16), Forest Green (G17), Lime Green (G21), Ocean Green (G28), Olive (G99), Flesh (R02), Vermillion (R08), Cadmium Red (R27), Peach (R32), Carmine (R37), Shock Pink (RV04), Fuchsia (RV09), Pink (RV11), Red Violet (RV19), Crimson (RV29), Lilac (V04), Lavender (V06), Violet (V09), Canary Yellow (Y02), Yellow (Y06), Pale Yellow (Y11), Lemon Yellow (Y13), Cadmium Yellow (Y15), Buttercup Yellow (Y21), Mustard (Y26), Yellow Green (YG03), Chartreuse (YG13), Putty (YG91), Pale Olive (YG95), Powder Pink (YR00), Chrome Orange (YR04), Cadmium Orange (YR07), Chinese Orange (YR09), Caramel (YR14), Yellow Ochre (YR23), and Pale Sepia (YR24).
| | |
| --- | --- |
| Tip(s) width | 0.2 - 7.0mm |
| Tip(s) type | Chisel and Felt Brush |
| Ink type | Permanent Alcohol Dye Ink |
| Archival | Yes |
| Bleedproof | No |
| Waterproof | Yes |
| Refillable | Yes |
| Replaceable tip(s) | Yes |
| Shape | Oval |
| Availability | Sets of 12, 36, 72 |
| Additional Features | Double-ended |