What Message is Your Portfolio Exhibiting?
February 27, 2014
More than just an archive of your work, your portfolio communicates your ability and potential as an artist.
Knowing your portfolio is the first impression you give when meeting with galleries and art collectors, how do you present your artwork or photographs? Even a strong body of work requires a strong presentation to communicate your skills, potential, and ambitions. If your portfolio lacks cohesion or fails to represent the feeling of each piece, this will detract from your art and message, and may lead to missed opportunities.
When developing the Opus Digital Printing Service and the products and services we provide through it, the task that creative individuals had of building their portfolios was a major consideration. We've amassed a variety of key materials that enable you to create and maintain a professional-looking tool to brand yourself as an artist.
For your works in traditional media, a high quality digital photo or scan of the piece is important. Digital print reproductions keep your originals safe from handling and transportation hazards, and help you avoid the inconvenience of carrying oversized pieces. If you create digital art, or are a photographer with a digital camera, you may already use a digital printing service to get your images from computer screen to paper.
Presentation Book Style
Once you have your digital file, reduce or enlarge your works to fit on a standard paper size for use in an album-style portfolio. Presentation books, like the ones made by Itoya, Pina Zingaro, and Shrapnel, provide simple solutions for containing your artworks, and can help you display varying sizes and media in one cohesive presentation.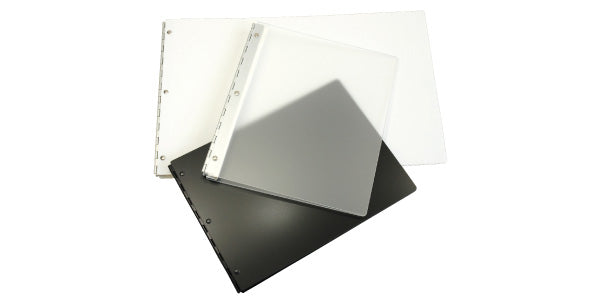 The perfect presentation book reflects the style and aesthetic of your work, and many will accept additional pages so you can customize it to suit your changing needs.
Include a space on each page for the title, medium, dimensions, price, and anything else you think may be relevant to the piece. Creating these pages through your digital image editor, and using the same font and format throughout, will help to establish continuity and reinforce your identity.
A digital reproduction doesn't have to sacrifice the look or feel of your original works. Opus printers receive regular maintenance to ensure accurate colours on your prints. This helps to capture the subtle blues of your landscape in oil and the full range of tonality in your charcoal sketch.
Make a Statement With Paper
We've made it a point to offer a large range of digital papers that are similarly textured to traditional art papers and have curated a selection of the finest photo papers, to allow you to select a surface so you can retain the subtleties and nuances of your piece and enhance the experience of your portfolio.
Black and white photos are crisp and clean on a resin-coated gloss paper, while watercolour reproductions look nearly identical to the hand painted original on a textured digital paper. Using the right paper for each work shows an attention to detail that many artists may overlook, and gives potential clients and buyers a true representation of your original.
Print at home or through Opus Digital Printing Service using BC's largest selection of fine art digital papers and photo papers including over twenty different papers from well reputed manufacturers like Canson, Moab and Museo.
Compare papers to find the best match for your art, ensuring it portrays the feel of your work and the image you want to promote.
Staying Updated is Easy
Once you have printed your first portfolio, you can easily update it. Just as you grow and change as an artist, so should your portfolio. It is a constant, dynamic work-in-progress. Print new pages for your portfolio as you finish your new works, and simply slide into the album sleeves. This will keep your portfolio as a current representation of your work, ready for any opportunity or last-minute submission.
Visit the Digital Printing department at your local Opus store to see how digital printing can help you express yourself and present a professional portfolio •
To see an overview of the printing services we provide, review pricing, and get tips on setting up your digital file, please visit www.opusartsupplies.com/digitalprinting
Visiting Artist Demonstration
Register to attend a portfolio how-to demonstration by Visiting Artist Nancy Crawford Saturday, March 29. Find out more at How to Create Award Winning Art School Portfolios with Nancy Crawford at Opus Granville Island.