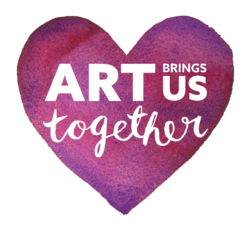 Cool Arts Society is a charity providing fine arts opportunities for adults living with a developmental disability in the Central Okanagan.
With the support of professional artists, our cool artists develop their own unique styles, making decisions and controlling every aspect of their creative process. This freedom of expression allows artists to find their voice and communicate in new ways. We also have a Young Adult Program designed to introduce Cool Arts to high schools.
Every week, 75 to 100 member artists participate in weekday classes & weekend workshops, working in a variety of mediums – drawing, painting, sculpture, fibre arts, and more.
Over the past few years, Cool Arts has taken part in some very interesting collaborations and partnerships with other organizations; locally, nationally and internationally.
Cool Arts has been creating and sharing pre-recorded video lessons and offering on-line interactive classes to their artists during the Covid-19 pandemic.  In order to ensure their cool artists have the tools they need for continued learning and creating at home, Cool Arts has made and delivered individual art supply kits.