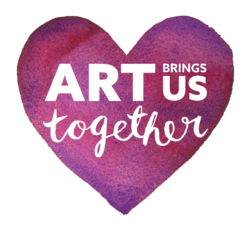 The Canadian Mental Health Association – Kelowna's Artworks Studio is part of the Wellness Development Centre program designed to promote wellness and build community for adults experiencing mental health concerns.
The ArtWorks Studio is a safe, comfortable and welcoming space for those who wish to learn new skills, have an avenue for self expression and create art as a pathway to wellness. It is a space for creative exploration that means different things to different people – joy, self-discovery, quiet, a wellness tool for recovery, focus, community, relationships, technique, skill and fun.
CMHA offers 5 – 6 instructed classes per month as well as 48 hours a month for open studio time. These classes covered topics such as basic drawing, portraits, landscapes, abstracts, and print-making. Participants practice with mediums ranging from pastels, watercolor, oil and acrylic paints to mixed media and wool felt.
The ArtWorks Studio partnered with local community venues to present the "Artists Among Us" exhibit, a collection of art created by participants in the ArtWorks Studio. The exhibit demonstrated themes of community, belonging and hope, challenging visitors in their assumptions about people with mental illness.
ArtWorks Studio participants become connected to the community in other ways as well. Social outings to local art displays, both public and private are offered each month.  Also, relationships are built between the local artists offering classes, and those participating, which lead to involvement in other artistic opportunities in the greater community.