Into the Studio with Brandy Masch
August 12, 2015
Are you ready to take the leap into making art full-time? Brandy Masch has recently done just that, stepping away from her day job at Opus Kelowna to dedicate her days to her art career. She shared her path with us, outlining the steps she has taken to get to this exciting milestone. Read on to gather ideas and inspiration for your own journey!

Describe your transition from a part-time artist to having a full-time art career.
Brandy: I didn't just decide to become a full-time artist right away; it took years of planning and time to build it up. The steps I took towards building my career started by developing a body of work that I was proud of. I got out there and took part in shows, shared my art on social media, built a website, got business cards, rented a studio space, and learnt from other artists and industry professionals. I don't believe in the phrase "Starving Artist". I have a 5-year plan that I tick off as I go, and I add new goals to it. It was my commitment to my art and studio practice that allowed me the opportunity to go full-time.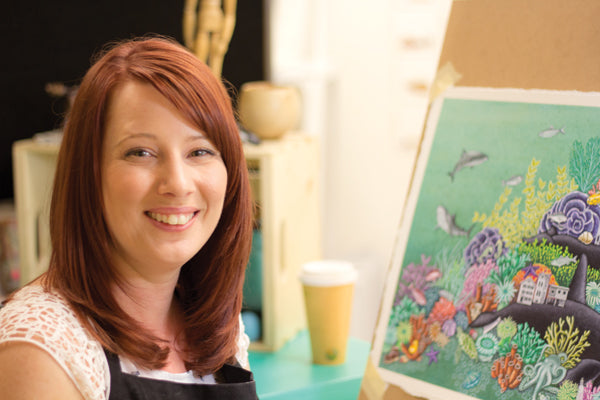 How did you decide you were ready to transition to a full-time art career?
Brandy: The right time to start full-time as an artist never seemed to come – there always seemed to be some sort of excuse. I knew I was ready, I just couldn't take the leap. It wasn't until I was standing in the ocean with my husband and he said, "this is nice, it's been a long time since we really hung out," that I realized that I had no life between my Job and my Career. So I decided then and there that it was time to take action!
How did you made art a priority while working a day job?
Brandy: I dedicated my life to my art and made specific times to create – before work, and until the wee hours of the evening after work. My studio, which is in Rotary Center for the Arts [in Kelowna], is literally a block from home and Opus. I took on monthly personal painting challenges, and I tried to stay fresh and current with new art styles and painting techniques. I also take in as many art workshops, and online and offline courses as possible. You never know what you will learn and how it will strengthen your knowledge in your own art practice.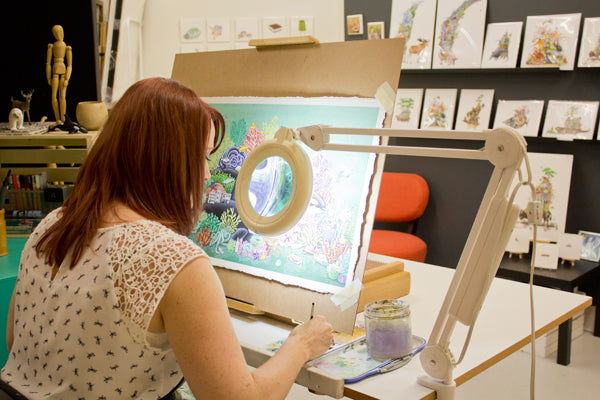 Has having a dedicated studio space influenced your art?
Brandy: There are really two sides to my studio. The first is an actual work space where I create my work. The other is my shop where I sell prints, cards, and fun little miniature illustrations. Having a studio space outside of my home gives me the opportunity to meet and network with people who otherwise may not have seen my art. My studio has a place for everything and is even labeled. My work is already time consuming and I don't need to be spending my time looking for things.
How has daily practice contributed to your development?
Brandy: It contributes to all aspects of my regular work. It challenges me and takes me out of my comfort zone. I get to try out different mediums, textures, light, perspective and just about anything I want to explore. Doing a drawing a day, no matter how small, will get you into the habit. Not only have I gathered an arsenal of smaller works to add to my portfolio, but I have started to develop a habit of getting up every morning to work on something. I will always come away with something, and something is better than nothing.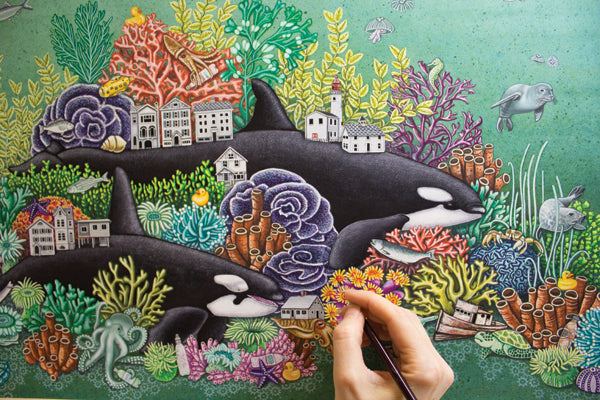 What advice would you give to others who are looking to make art a full-time career?
Brandy: My journey towards a full-time art career has only just begun, so I don't pretend to know or have all the answers. However, having goals and a vision of where you want to be helps. Gain recognition by exhibiting in pop-up shows, juried shows and submitting to competitions. Make your art your brand and think about using social media to get your work seen by people around the world. You should work on marketing skills and the business side of art, which is just as important as making good art. Find your voice and develop a consistent body of quality work.
There is an ancient Chinese proverb that I love, that goes: "The best time to plant a tree was 20 years ago, the second best time is now." So here I am, planting trees. •
---
Brandy generously provided us with her alphabet drawings to use in Issue #306 of our Visual Arts Newsletter, as well as the piece on the cover. For more of Brandy's artwork, visit www.brandymasch.com