Inspired by Paper
February 21, 2013
Paper is amazing. Ever since its invention around 105 AD in China, it has found more and diverse ways to be used. Have a look at pop-up books, origami, and papier maché. Who ever thought something so flat could be so dimensional? But because it is so thin and flat, it is easier to transport and store than stretched canvas, or wood panels. Roll it in a tube, stick it flat in a portfolio, or get some magnets and keep it on your fridge. Paper has developed tremendously since its early days; lets have a look at a selection of some inspiring papers available to today's artists.

Most papers will readily absorb water, which is not always good for the paper's structural integrity. However, watercolour paper is made for water: it is sized to work with washes of water and accept the pigments in watercolours. For instance, Opus Finest Watercolour Paper was developed by Opus to be an ideal surface for watercolour. It is 100% cotton, 300 gsm, cold-pressed with gelatin tub-sizing. Get individual sheets or a pad.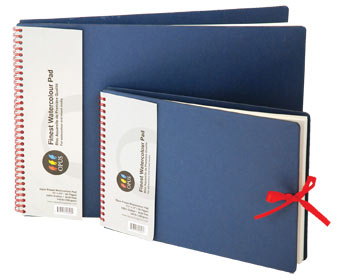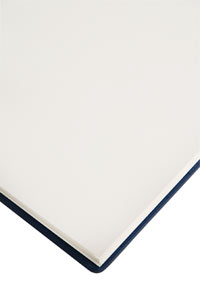 Arches Oil Paper is all set to accept your oil colours, no priming needed. Get the look of Arches paper behind your oil paintings. This 300 gsm (140 lb) high-tech paper was specifically designed for oil painting. It features a powerful oil barrier that absorbs water, solvents, and binders evenly while allowing the paint and pigment to remain on the surface.
Strathmore 400 Series Toned Sketch Paper brings a new sense of dimension for the drawing artist. Since the paper is middle toned, you can work in both dark and light media for shadows and highlights, creating a sense of relief. Pick gray for a cooler neutral base tone and tan for a warmer feeling. This 118 gsm (80 lb) paper is great for all sorts of drawing media.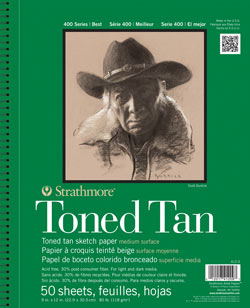 Scratchboards are a stunning way to make art. With Scratch-Art Scratchboards you create clean white lines on a black background. Scratchboards are made of a board coated with fine white china clay and then with opaque black ink. You then scratch away the ink revealing the white beneath. Your hatching and crosshatching skills will serve you well here. You can then colour the white areas in with watercolours, ink, or other such media.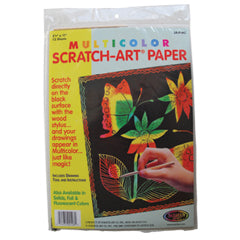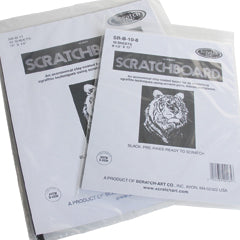 We have highlighted a few inspiring papers, but there are many more, such as Terra Skin Stone paper made from stone, mixed media paper made from bamboo, marker papers that don't bleed, primed and textured Canvasette paper for painting,… and many more. There is a paper for almost any project: check out all our options in our Papers section.