Inspire & Renew with Experimentation
December 31, 2018
With the coming of the fresh new year, it's the perfect time to experiment and explore with new media, techniques, and subjects. Let's take a look at how you can freshen up your work!

Four Mixed Media Artists' Thoughts on Experimentation
We had the opportunity to speak with four Canadian mixed media artists on their work, what keeps them exploring, and what they advise to other artists. Click to explore their work and check out what they had to say on experimentation.
Image credit: Wanda Lock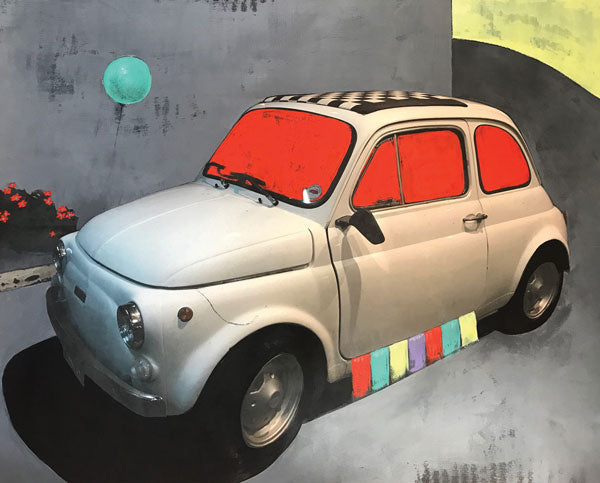 Beyond the Jpeg
As a little bonus, we've written up some pointers on how you can incorporate digital prints into your mixed media work, inspired by two of our interviewees. Click to take a look at how you can take your work beyond the jpeg, and find some other resources for mixed media success.
Image credit: Deborah Bakos

Start your year off right with the anticipated return of our 28-day creativity challenge!
Join us from February 1–28 and be a part of this thriving creative community. Whatever your skill level, time availability, or Instagram prowess, we invite you to challenge yourself for a full month of creativity. Click here to find challenge details and inspiration.
New this year: Calling All Artists!
Do you have an idea for an Opus Daily Practice prompt? Now's your chance to shine. Submit your idea & artwork for one of this year's prompts by email to info@opusartsupplies.com, and the 28 artists with selected prompts will receive a $100 Opus Gift Card each! Click here for details & submission requirements.
Practice Makes Progress Special:
Set yourself up for success with an Opus Daily Practice Sketchbook, available beginning mid-January.
At only $3 apiece, these books will serve as a daily reminder to make your practice a priority and allow you to keep all of your artworks in one handy place. (Reg. $5.40)

Hashtag Your Daily Practice!
With one billion active users and a very high per-follower interaction rate, Instagram is an easy, effective, and free way to communicate and engage with the creative community on a global scale. The user interface features easy, built-in editing tools. All you need to get started is your smartphone and a little inspiration.
Click here to read on and learn more about how you can make your Instagram Gallery a success in 2019!
Be part of Opus' creative community by following us on Instagram @opusartsupplies. Tagging your art posts with #opusartsupplies will bring your work to our attention and let us know that you are busy making art, and you may even be featured on our Instagram feed! Follow along in February, too, for the #OpusDailyPractice, and see how other artists are taking on the challenge of making art a daily priority.

We will be closing the doors to our old location and opening our new store at Harbour Centre, across the street from Waterfront Station, in late January, 2019.
Our Downtown Vancouver store will not be hosting any demos this January because they're moving to their new location in Harbour Centre, but they'll be back with more great learning in February, 2019!
Click to sign up for Opus emails to receive the latest information.
Image credit: Rendering by Opus staff member & artist Kyrra Kossar