Gesso Basics
August 4, 2016
Contents:
History • Introduction • Preparing a Canvas Surface • Preparing a Wood Surface • How-To Document (PDF)
Historically, surface preparation, regardless of the surface type, was labour intensive and time consuming. For instance, Renaissance tastes called for a smooth, grainless surface on which to lay down paints, and preparation could take weeks. Artists applied the ground in thin layers, sanding them with fine pumice between each application. When the canvas was primed to their satisfaction, it would be stretched and nailed across a wooden frame. Fortunately, the process is less onerous today.
Unprepared painting supports should be primed before paint can be applied – otherwise, they are too absorbent. The first (prime) layer of paint to be put on the support isolates the support from subsequent layers of paint. This first layer makes the support more receptive to paint and ensures longevity.
Watch artist and Opus Langley Staff member Colin Mitchell prepare surfaces for painting in the video above.
It is important to prepare your chosen surface with an appropriate foundation to work from. There are several reasons to do this. A carefully prepared surface can help seal the support material from the paint layers, ensuring that issues of support induced discolouration or possible canvas rot do not become an issue. A well prepared ground also helps your chosen medium adhere well to the substrate beneath it and prevents unnecessary loss of paint through absorption into the material you are painting on. Selecting the right kind and combination of foundation layers begins with the kind of support you wish to paint on, your chosen painting media, and personal preference. Time spent on research and preparing the right base may make the difference between your painting lasting decades or centuries!
Back to top
APPLY INITIAL LAYER OF SIZE
Fabric supports (cotton canvas and linen) benefit from an initial layer of size, especially when using oil paint. Size permeates the fibre and seals it, protecting the fabric from the degradation that occurs when oil paint comes in direct contact with these natural fibres. Sizing is also recommended with the use of acrylic paints to prevent contaminants in the painting substrate from rising and causing discolouration in the paint layers (support induced discolouration.) This applies in particular to any substrate that is made of or contains wood or wood pulp, as both are highly acidic.
APPLY GESSO
After sizing your surface, you may then apply gesso. This provides a foundation and helps the paint bond to the canvas. Today, gesso usually refers to acrylic primer. Acrylic gesso creates a strong flexible base for both oils and acrylics. If painting with oils on pre-stretched canvas, we recommend several additional coats of gesso to help protect the fabric. While a good primer for many surfaces, acrylic gesso should not be used over a surface that has a previous layer containing oil as the oil will prevent proper bonding between the surface and the acrylic primer.

FOR ACRYLIC
Palette knives or plastic trowels work best with thick gesso or if a specific texture effect is desired. The most common way to apply acrylic gesso however is with a wide flat brush. It helps to wet the brush in water first as this aids with the flow and ease of application. The first layer of gesso can be thinned with water up to 25% which ensures that the substrate fibres are permeated thoroughly. If you prefer to apply gesso in thin applications, or find the gesso too thick, you can also thin each subsequent layer with a small amount of water. Be sure not to exceed 25% water content as this can break down the binding properties of the gesso. Once the gesso is dry, you can lightly sand it using a fine grade sandpaper. Now apply the second coat, moving in the opposite direction to the first layer. Two to three coats of a professional grade gesso is usually sufficient, but additional layers can be added, following the same procedure.
FOR OIL
For grounds designed for oil painting, the material is applied in thin layers with a palette knife or trowel and then evened out using a brush. If the ground is too thick, a small amount of professional grade solvent (5%) may be added before applying. The surface should be set aside to dry overnight before additional layers are added, though usually two coats of a high grade ground is sufficient. Once the ground is dry, you can lightly sand it using a fine grade sandpaper. Allow the surface to dry for several days before you begin painting.
(Optional) ADD ACRYLIC GELS OR MEDIUMS
If you wish to increase flexibility and lower tooth and absorbency in acrylic gesso, you can add acrylic gels or mediums. Start with smaller ratios and add more as you see fit. Testing is the best manner to determine which works best for your preference.
(Optional) ADD MOLDING PASTES OR OTHER COARSE GEL MEDIUMS
To increase tooth or alter the texture of acrylic gesso, molding pastes, or other coarse gel mediums can be added. The addition of these products will produce a thicker gesso, which may require a palette knife or colour shaper to apply the mixture. There are many other types of specialized gessos or grounds that will give your painting surface a unique texture to work from, such as GOLDEN Absorbent Ground or GOLDEN Acrylic Ground for Pastel.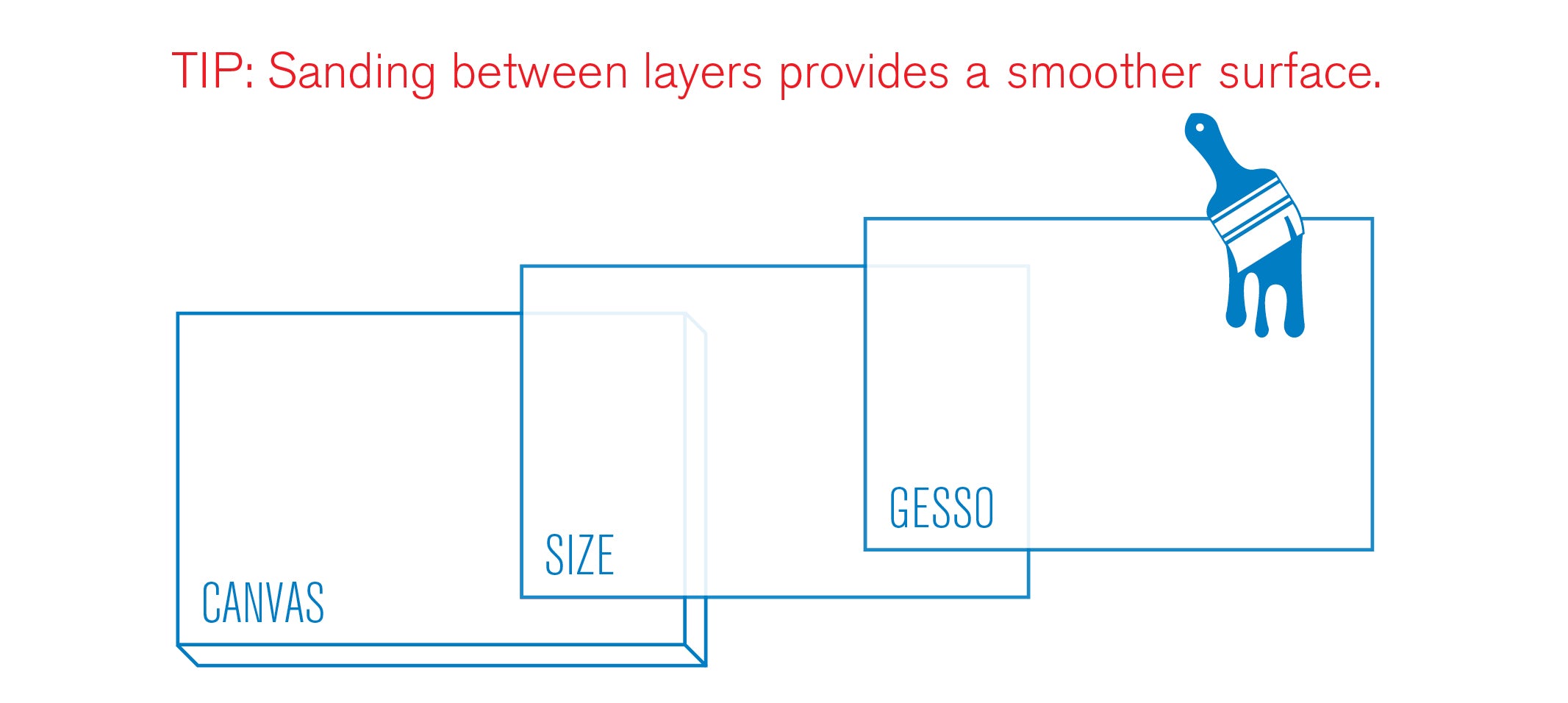 Back to top
APPLY INITIAL LAYER OF SIZE
If necessary, you may lightly sand your unfinished wood surface to remove any splinters or small imperfections. Then, wipe the surface down with a damp cloth to remove sawdust or grit on the surface. Sizing is then applied, which in addition to discouraging support induced discolouration with acrylics, also helps to prevent possible warping when water-based media is used. Most contemporary artists use PVA (poly vinyl acetate) size instead of traditional sealants as it resists humidity and is more dimensionally stable.
Apply a couple of coats of PVA size or GOLDEN Polymer GAC 100 to the entire panel. This sizing process will seal the wood permanently and will be the first layer of protection on the front, and will be a barrier against moisture penetration on the back. The sizing will also keep the wood from absorbing large amounts of your paint.
APPLY GESSO
Gesso is generally used for oils and acrylics. While too brittle for a fabric support, traditional gesso or "ground" works best with rigid surfaces such as wood and produces the best bond for oil paint. There are a number of other gesso products that can be used as well, depending on the media you will be using and what effects you are looking for. If you wish to keep the wood grain visible you can use a clear gesso, or create your own by allowing an acrylic medium such as GOLDEN Polymer GAC 100 to act as both your size and gesso. You can also tint your gesso with pigment or paints.

FOR ACRYLIC
If you are working with acrylic gesso, use a wide brush, painting a layer of gesso on and allowing it to dry. When the gesso has dried you can lightly sand the surface with a fine grade 400/grit sandpaper. A second coat can be applied any time after the first coat has dried, moving in the opposite direction as the first layer of gesso. At least two coats of gesso should be applied. The more coats of gesso that are applied the smoother the surface will become, especially if sanding between each layer.
FOR OIL
If you are working with an oil-based ground, you can dilute it with a small amount of quality grade solvent (5%). Spread a thin layer of gesso or ground on the surface using a palette knife or plastic trowel, moving in multiple directions to ensure thorough coverage. Next, use a roller to smooth out the surface into an even coating. Let the layer dry overnight. You may sand lightly before applying the next layer if you are wanting a smooth finish to your surface. Two coats of professional oil-based ground or four coats of a professional gesso is sufficient, but extra coats can be added if preferred. Once you have applied the final layer the surface should be left to dry several days before you begin painting.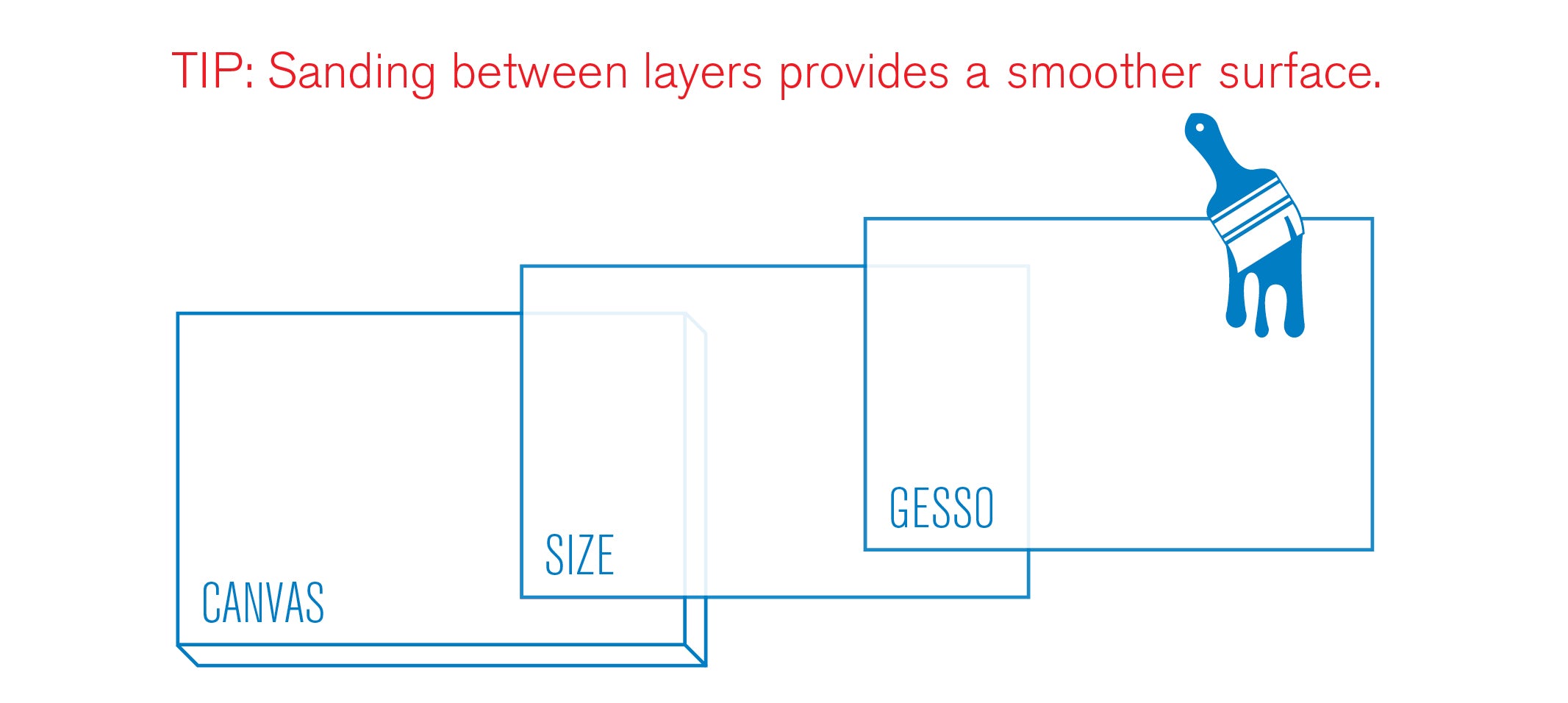 Back to top