Framing Art on Canvas
February 15, 2013
Framing plays a key role in the presentation of an image. The right frame complements your image by creating a beautiful and effective display. A well chosen frame will draw the viewer's eye into the composition in ways that can be seen as dramatic or subtle. It makes all the difference.
At Opus we have a wide selection of mouldings to choose from, but knowing a few key tips and techniques will greatly assist in the decision-making process. Framing is packaging that protects, preserves, and presents your work of art. Taking the time to carefully choose effective styles, colours, and proportions for the frame will create balance and harmony, and in turn enhance the visual qualities and value of the image.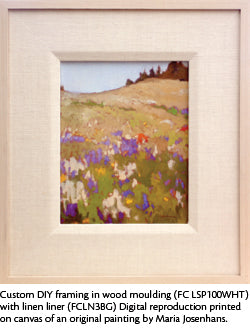 The first rule of thumb is to always bring the work with you when you are choosing mouldings. You may be surprised which frames work best with your art, and you can never really know until you try different kinds. This leads to the next rule. Try various styles with your work to get a better idea of what options are available and which may best complement and enhance your art. You can start with options that you instinctively feel may work best with your image, but keep trying other styles and colours to ensure that you have seen all the options.
Aesthetic decisions about framing are always best made in consideration of the art itself. Considering whom the work is intended for (your audience or market) as well as the environment it will be displayed in can influence your process of choosing. The final decision should reflect primarily upon the work itself in order to provide a more successful result. The three main points to keep in mind when choosing are: style, colour and tone, and proportion.
Style
Consider the character and content of the image. Is it reserved, expressive, interactive, subtle, or bold? The frame should be chosen to complement the language and character of the work. Next, determine whether the work reflects certain art trends or practices. For example, can it be connected to a particular era of painting? This can help suggest moulding styles that may pair well with it and be in keeping with the historical context of the work.
Colour & Tone
What are the colours primarily used in the work? What are the colours in the details? Which tones stand out? Generally it works best to select frame colours or tones that complement the image, not match it exactly, in order to maintain the impact of the composition. The degree of contrast in the image can be reflected in the choice of frame colour or tone. Images with less contrast in them would benefit from a more subtle frame. Images with higher contrast in colour or tone could benefit from a contrasting frame. Choosing a neutral frame tone or colour can often be the most effective approach in creating overall balance.
Proportion
The right proportion of frame moulding will help support and enhance the image. Thick bulky mouldings can work very well with larger works or compositions that are dramatic and bold. Wider mouldings can also create an interesting dynamic when paired with small works, though it is essential to be aware of not overwhelming the art. The use of a wood or linen liner can help emphasize and expand the visual space around the image and gives another area of rest for the eye. Mouldings that are too thin may not visually support and complement an image, and can be a concern for structural safety with medium to large works. Generally, choosing a wider rather than a thinner moulding is a safer aesthetic choice and will increase the perception of value in the work.
Following the guidelines above will help with your decision making. Second opinions from framing staff or friends can make the process even more effective and supportive. Next time you are framing for your exhibition, for a gift, or for yourself, you can be confident that in following these tips and techniques, you will be creating a beautiful presentation of your art that will be enjoyed and appreciated by all.
By Chris Gillespie for Opus Art Supplies.
This article was first published in the November / Decemeber 2012 issue of Art Avenue Magazine, published by the Federation of Canadian Artists.
Visit www.artists.ca to learn more about this publication or the Federation.