Change a Tchotchke with The Jealous Curator, Danielle Krysa
December 08, 2019
Description
Sunday, December 8 10:00 – 11:30AM
Sunday, December 8 1:00 – 2:30PM
Workshop fee: $5.00
Alright, it's time for another outing. This time we're going to a thrift shop, a garage sale, or your parent's basement—basically anywhere you might find a ceramic tchotchke. Ducks, dogs, ballerinas, or bananas—anything goes! First things first—before you can begin breathing new life into your object, this found weirdo is going to require a coat of primer. You can use whatever sort of primer you like, from white acrylic paint or gesso to house paint or perhaps some black chalkboard paint. The key is covering whatever is there now, so that you can give this little fellow a new lease on life. Once your primer layer (you might need a couple of coats) is dry, it's your time to shine. Choose three of your favourite colours and one or two kinds of patterns, and then change that tchotchke! While your primer is drying , use the next few blank pages to experiment with a few possible patterns. Yes, you could go with simple dots or stripes, but you're about to give this old object a new lease on life, so why not try something totally new? Pineapples, gingham, sea life, plaid, or floral might be exactly what the tchotchke ordered. Workshop participants can bring their own tchotchke to re- invent or use on of the provided found objects!
Danielle Krysa has a BFA in Visual Arts, and a post-grad in graphic design. She is the writer/curator behind the contemporary art site, The Jealous Curator (est.2009), Danielle creates her own artwork as well – mixed media collages which combine found images, paint, and as much humor as she can pack into each title. When she's not in the studio, Danielle is writing books : "Creative Block", "Collage", and "Your Inner Critic Is A Big Jerk" were the first three, and her fourth book, "A Big Important Art Book – Now with Women!", will be released in October of 2018.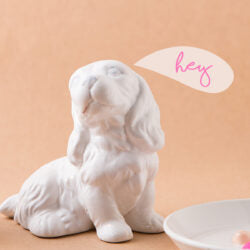 Space is limited and registration is required.
Please visit Opus Kelowna or contact them at 250‑763‑3616 or toll free 1‑800‑814‑8885 to register.