Dive Into Mixed Media
January 25, 2012
What comes to mind when you think of Mixed Media? As personal definitions and methods vary, we challenged three of our staff to make their own interpretations. And like a high-pressure reality show, they had to work with a common element: a photograph of a shark. (Why a shark? Because sharks are awesome. That's all.)

Coming from a background in sculpture and ceramics, I wanted to try transforming this 2-dimensional image into a 3-dimensional object. In order to do this, I decided to break up the print image in some way. As I began to think about ways this could be done, it led me to think about how cubist paintings are essentially fractured images. I cut out and cut up the shark print, thinking about what elements of the image were most important.
I had wanted to try the instant papier-mâché product Celluclay and took this challenge as an opportunity to do so . I decided to make a small wire armature to which I would apply mixed Celluclay to form the shape of the shark.
I started to think about Antoni Gaudi and his sculptural mosaics. I decided on making a kind of mosaic in which the print pieces were pressed on and into the Celluclay. I now realized I wanted to work with the image pieces while the sculpture was still wet and that the pieces would need to be protected. I sealed the image pieces using Mod Podge glue and varnish to protect them.
I mixed the Celluclay and applied it to the wire armature. When I had the shark form roughed in, I started pressing print pieces into it, mainly focusing on the fins. As the piece dried, I continued to place print pieces on it. When I felt I had placed enough print pieces on the shark, I then mixed a little grey paint to apply to the surface. With the paint application, my intention was to blend in some of the harder edges of the print pieces.
All in all, it was a fun exercise and experiment. I can see there is a lot of potential using collage/mixed media techniques with papier-mâché. I would definitely like to try it again!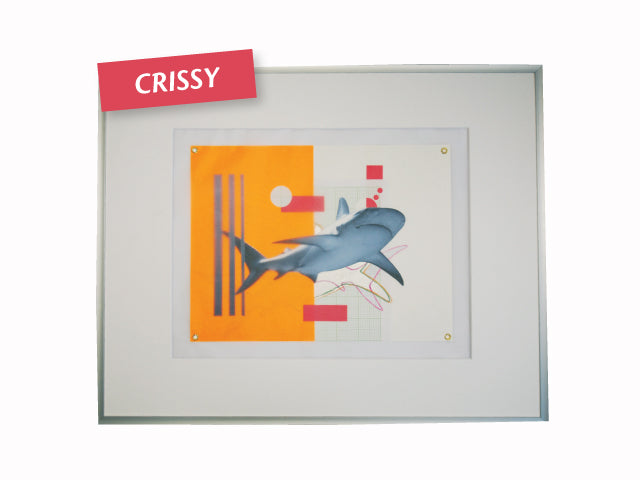 When presented with this image, my original thought was to incorporate a cover of Plexiglass, carving a colourful underwater scene into the plastic with the shark lurking in the background. As I gathered my supplies and set to work, what evolved was something quite different. That's one of the great things about mixed media, the materials you have on hand can influence a piece to go in a different direction than planned.
I wanted to transform this murky underwater scene into something bright and colourful. I started by tracing the shark onto graph paper with coloured pencil using a light pad to illuminate the image to aid in tracing. I'd also wanted to use metal leaf in a piece for some time, so I painted one of the sharks in the tracing with gold leaf size. While waiting for that to dry to the tacky stage, I cut the sharks out with an X-acto blade. I then added silver leaf, burnished it and gently removed the leaf from the areas where glue had not been applied.
Somewhere in this process, my original plan went by the wayside and a collage started to emerge. I cut the shark out from the digital print and arranged it with the silver leaf tracing, bright sticker papers, and some pieces from the background of the print over a watercolour paper base. When the composition started to come together, I attached the elements, some with spray adhesive, others with Yes Glue. To give the whole piece a sense of unity and to create a bit of an underwater feeling, I attached a sheet of tracing paper over the entire image with metal rivets.
With the finishing touch of a Chai Mat in warm white and an Opus Metal Exhibition Frame in silver, my mixed media collage was complete. It was a fun project. I enjoyed the limitation of having to incorporate the shark print, yet the freedom to add just about anything I wanted to create the finished image.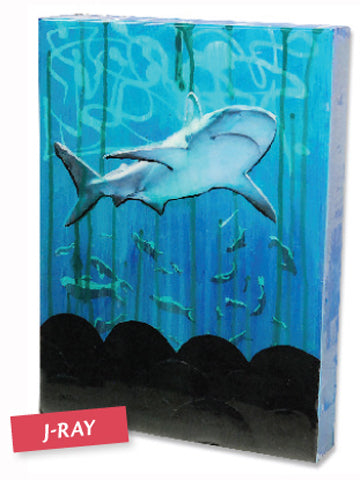 To keep the shark as my focal point, I planned a textured, semi-abstract ocean setting.
I started with an 9″ × 12″ Buzz Cradled Wood Panel for a textured support suitable for the pour-on varnish I would use as a final step. In order to let the wood texture show through, I sealed the panel with Opus Gloss Medium, tinted with a little Golden Fluid (Phthalo Blue Green Shade). Once dry, I thinned some Golden Fluid Acrylic (Phthalo Green Blue Shade) with water to create a light glaze over the panel, setting aside the leftover mix for later.
I penciled in some fish and painted them in with black and white Liquitex Acrylic Ink! I sought this high contrast since they would be layered over. I applied another glaze of Phthalo Green and tilted the panel so it ran from the bottom up. To create more texture, I mixed some white ink with Liquitex String Gel and dripped it in a pattern that resembles light on the surface on the water. This step was difficult to control but fun to do!
I added Phthalo Turquoise (Stevenson HB) thinned with Golden Glazing Fluid (who says you can't mix brands?) to soften the look of the string gel. I dripped a watery solution of Golden Fluid white paint down the painting several times and used a heat gun to speed up the drying process.
After cutting out my digital image, I applied a generous amount of Opus Gloss Medium to the back and pressed it in place, then brushed more medium over it. I made another watery solution, this time with Liquitex Basics Phthalo Green and water, to create more drips running from the bottom up. I had to wipe off some of the drips that ran over the shark image.
I added some highlights with black and white paint around the shark, to help it stand out from the background. To provide more visual weight, I cut a black decorative paper with a texture I liked (Lotus Print Black) into semi-circles and then layered them into a Japanese Wave pattern. Each piece was applied using Opus Gloss Medium.
To finish the piece, I wanted a high-gloss, wet look, so I mixed and applied Envirotex Lite, a pour-on varnish used to coat tabletops (and great for securing collage and mixed media works).
That's it! I realize that I've gotten accustomed to a certain "pure" form of painting, so it was exciting to try so many viscosities and brands of acrylics, with a few different mediums, all in one piece. Mixing paint with collage is something new to me, and it adds a new layer to the process. •