Creative Process: Interview with Joanne Hastie
August 18, 2016
As the weather cools down and days get shorter, many artists will be returning to the comfort of their studios soon. We caught up with Vancouver artist and marathon runner, Joanne Hastie recently, and discussed how she uses the photos she's taken when outdoors to capture the essence of a scene in her art process, and how her process has come full circle – via Italy!
"Whenever I'm out for a long run or out around town, I am constantly looking around me. I often don't know what's going to inspire me when I'm back in the studio, so I take lots and lots of photos; having an iPhone for this is fantastic, because I can capture the scene from different angles.
Having travelled to Italy 5 times, Joanne has amassed over 15,000 photos from wandering around Italy – "that's where all of those images of the alleyway scenes or my views from towers come from. When I get home, I use Adobe LightRoom which allows me to skim through the photos, and see which one catches my eye, and then I paint from that one."
I have always focused on trying to use my own photos as my source material, but there are other advantages to using photos as a reference, for example, I know what was important in the scene, or what it was that caught my eye to begin with, and I make sure that is the focus of the painting. There's a story behind each image, and it's important to be able to portray that in the painting.
I did a daily painting challenge in the Fall of 2015, and for that I painted a 7" x 7" painting on paper within 90 minutes each day, and the timeframe included picking the photo. So that meant if I was instantly inspired by a photo, I'd quickly paint it, rather than spending a lot of time and overthinking it. It's those instantaneous thoughts and brushstrokes that you get out when you have the time crunch that are so important.
Because these studies are such small projects, I know I'm going to finish it; I don't care about them as much as I do a big piece, because I'm just spending a short amount of time on them compared to what I would when I'm approaching a bigger canvas or project. I end up liking the studies a lot because they're just such quick 'thoughts that I spent a moment with' and I find you really develop your style that way as opposed to working only on a larger piece that you're humming and hawing about.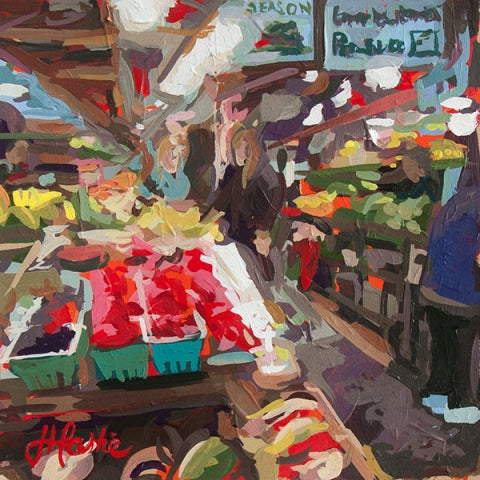 When I move into my larger pieces, I've had the most success – and the most fun – working from those smaller studies, the ones that mean the most to me, like the pictures of the Granville Market – that bigger piece only took me 2 days to do – I knew exactly where the paint was going to go, and what colours I was going to mix because I had worked it out in the smaller study. I had already figured out what the highlight of the painting was, and it was the colours and the depth of being in a market.
I've struggled with plein air painting – I enjoy doing it, but I'm never as happy as I could be with the work because I'll sit in an area and I'll look around and there is just so much to look at it's hard to know where to start. In the spring I was in the Botanical Gardens, and there was just so much stuff to look at, and it's this reason I like the camera – it limits what you're seeing, and allows you to settle on one focal point, and then when you're moving on to a bigger painting, you have less information, so you end up going into the colours and the brushstrokes themselves.
I like trying to do as few brushstrokes as possible and still get what the scene is about. I love that challenge. It's interesting how the brain works, too, piecing things together – a lot of people come up to my paintings and are surprised that it's just brush strokes, when from a distance it looks like 'something'. At the Ferry Gallery, I spent time with people who were saying "this reminds me of Paris", or "this painting reminds me of Italy", but those weren't countries that the paintings were done of. It's a connection with a memory rather than an exact location.
The first gallery I was with was in Sun Peaks – I don't ski, I was going there in the summer, and exploring the area on my bicycle when I met them – and the gallery kept asking me for snowy scenes, and it was actually very difficult to paint snowy scenes. Having that experience early on made me focus on painting the things I like, in the places I love to go. If you're painting something that is not of interest to you, you'll find it's another reason to create excuses to not paint.
Things are all coming together now, and I'm pinching myself. I had a meeting last week, and I am doing a show with the Italian Cultural Centre about travelling to Italy – that's my absolute favourite thing to do is travel to Italy and now I am doing an art show about it. So for me, it's "paint what you love, and those opportunities come up".
Joanne encourages artists who want to work more frequently to set up a space for artmaking in their living space. "When you create a space in your home to do your art, you have fewer excuses 'not to go there'." This "easy access" to your materials and workspace facilitates your art-making to become more of a habit than a hobby. Joanne's home studio is based in her laundry room, and she's shared some great tips for setting up whatever space you have available into a compact studio.
Use an adjustable table. If you can raise and lower the table height, and adjust the angle of the work surface, you'll be able to use it for any number of art projects. Also, adjusting your space so you're comfortable while working is key to being able to stick with it for a longer period of time. "I can adjust my table to be a standing desk, a sitting desk or I can move it around if I am trying to squeeze an easel in there as well. When I'm painting I tune out, and I often ignore the fact that my back is hurting because my palette is too low. What's nice about this adjustable table is that I can set up my workspace for whatever project I take on – now I can adjust my workspace for my comfort!"
Use your vertical space. Joanne saves space and finds inspiration by hanging her tubes of paint on her wall. "This way I see the colours, and just like when you walk into Opus and you see the colours, you walk into my laundry room and see the paints hanging on the wall and it inspires me to sit down in front of that and start painting."
Use shelves to store your art supplies. "What's nice about this is that I have been able to put all of my computer stuff up on the wall, along with the knickknacks that need to stay stationary, and this helps keep the big surface clear for working on."
Set yourself up for the long haul. If you're prone to really getting involved with your project, set yourself up for success; stay hydrated, and set out snacks so you can keep going without interruption. •
You can learn more about Joanne and her work at www.joannehastie.com