Capturing the Beauty of White Nights & Sunsets
September 9, 2021
Watercolour Sunsets with White Nights Watercolours by Nirupam Konwar
Having captured a stunning sunset over the water, with a building and bridge in silhouette, artist Nirupam Konwar shares how he achieved the effects of warmth and depth in this beautiful watercolour painting.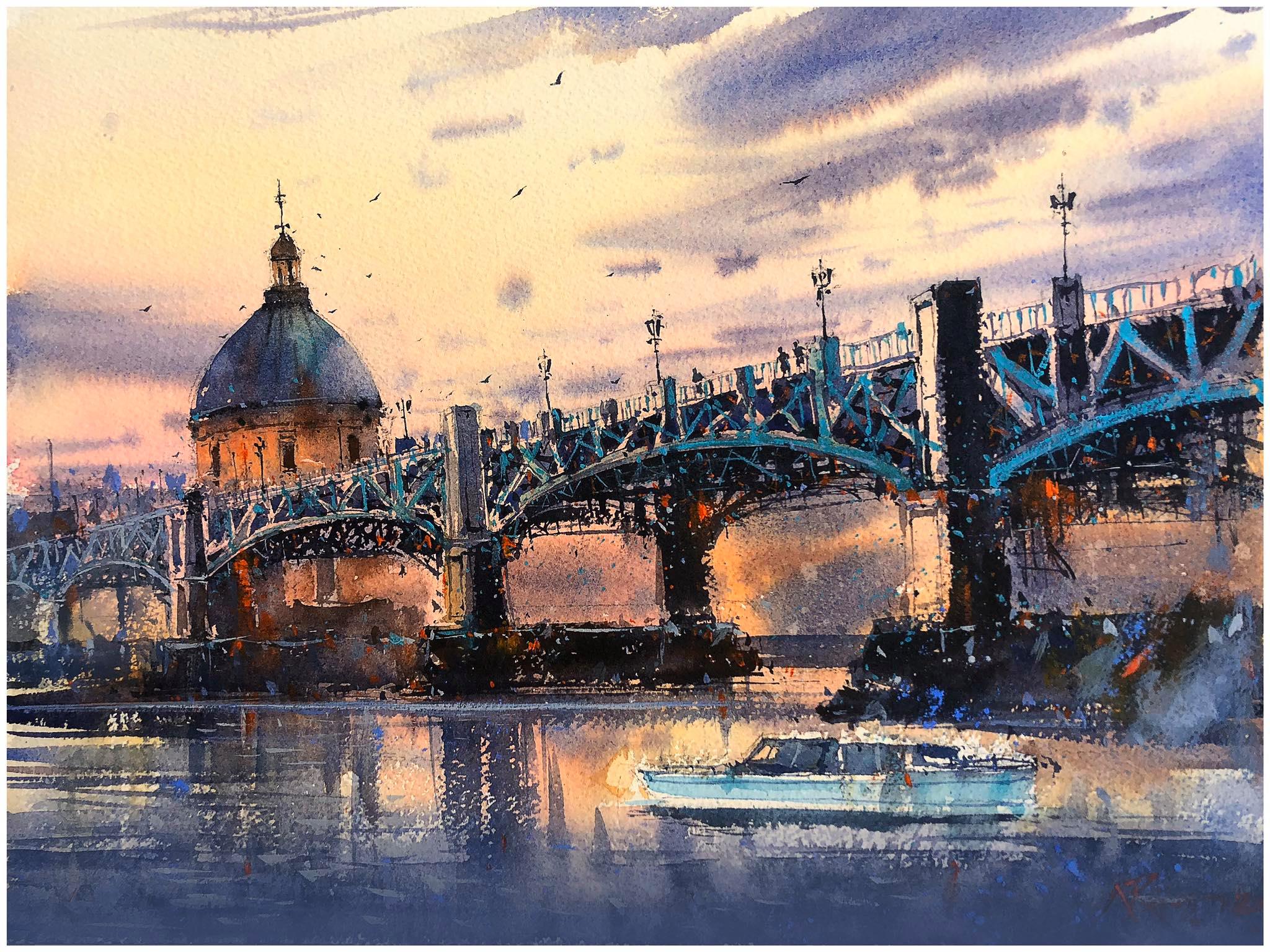 With White Nights Watercolours I am able to evoke a wide range of emotions onto canvas with a limited palette. These paints offer rich, dark, and bright colours that help me create beautiful paintings with stunning special effects. The Nevskaya Palitra brand has some very nice transparent and pastel colours and I used both of these in this painting. 
I most enjoy the colors like Ultramarine Violet, India Gold, Quinacridone Rose, Indigo, Violet and Payne's Grey. I believe less is more and in my paintings the emphasis is on the abstract forms and silhouettes rather than in the details.
I am fascinated with the effects produced by wet on wet technique, as you see in the painting of mine shown above.
How This Painting Was Created
After I had sketched in my scene lightly with graphite, I started with watercolours using a yellow-orange wash before detailing the sky and the bridge. In this painting I have used complementaries to achieve color harmony, as you see the overall yellow orange tones contrast perfectly with the violet blues.
By mixing complementaries equally you will end up with a muddy shade so it's important to use the right colour intensity of blue before applying it onto the yellow orange wet wash. The subtle neutrals achieved with White Nights are excellent for creating silhouettes.
For the final bold brush strokes that you see on the bridge, I added a bit of pastel opaque pigment to my watercolour mix to make it more bright, which allowed me to achieve the intense effect that I was aiming for.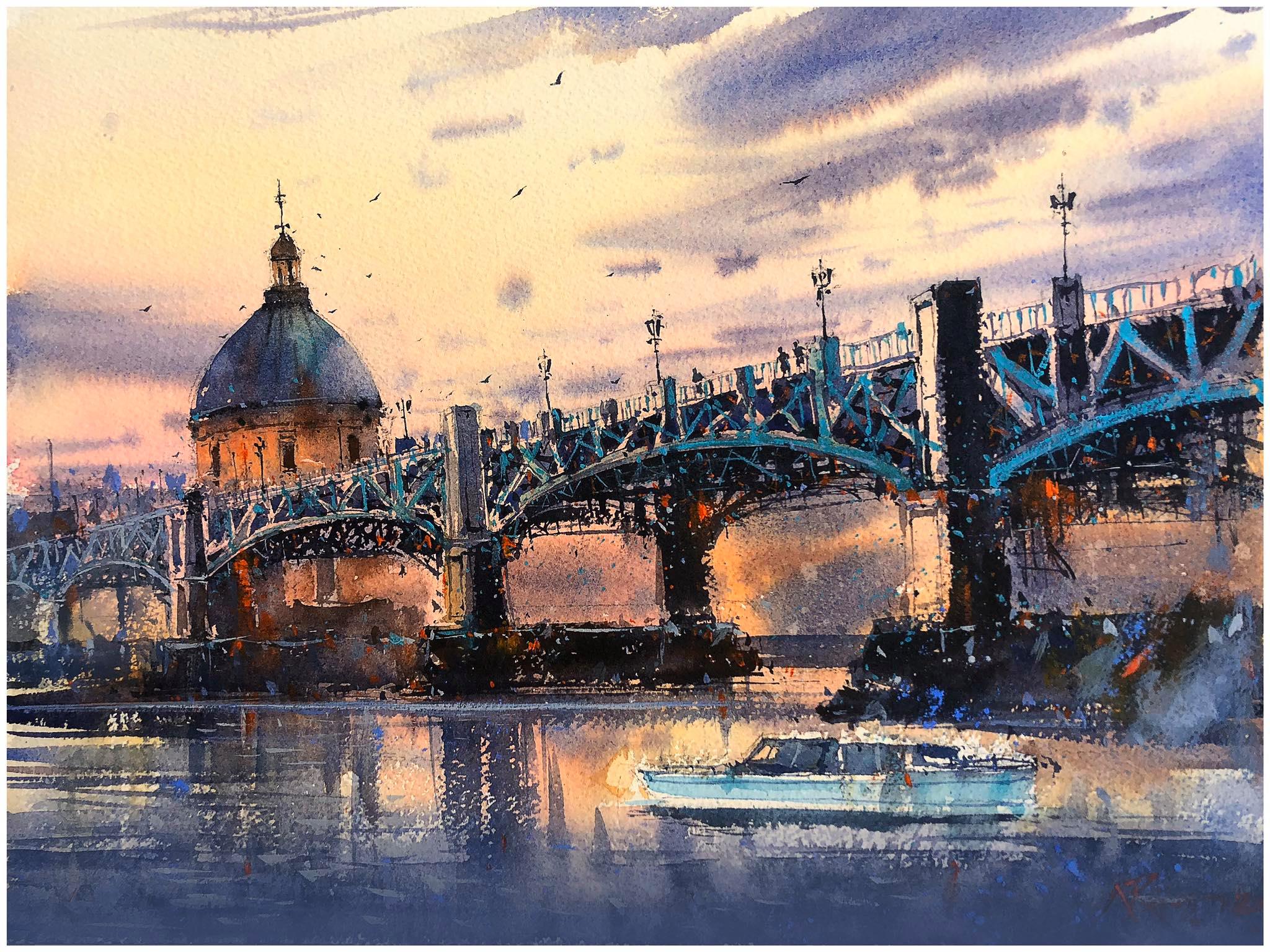 I always advise my students to emotionally connect with surroundings to capture the right mood on the canvas and to use good quality watercolours for a profound impact on the mood of an artwork.
About the Artist: Nirupam Konwar
I was born and raised in Assam – the land of blue hills and rivers – a beautiful quaint state in northeastern Asia. Nature has always inspired me.  I have been interested in painting and drawing right from a very young age. My artwork is based on the forms that I observe in nature, which I use as a starting point to create an imaginative, impressionistic work of art. 
I studied art at Mysore University, where watercolour painting and 3D graphic design attracted most of my attention. I am currently pursuing a successful career as a creative Artist in the Multimedia industry. Throughout this time, I have never lost the desire to use traditional methods and subsequently specialised in impressionist watercolour painting. I enjoy capturing a mood or the effect of light on a variety of subject matter in my paintings, whether it is architectural structures, landscape or figurative scenes. White Nights Watercolours have made this possible by creating appealing combinations of colours available with an affordable price range. 
See more of Nirupam Konwar's artworks and follow him on Instagram at @nirupam_konwar and on Facebook at https://www.facebook.com/infonirupam