An Art Market Frame of Mind
August 15, 2014
The season of giving is just around the corner, and it's the perfect time to share your work at a local art market. Below, we've assembled a myriad of ideas to help boost your success.
Even if you're a seasoned market booth artist, read on — you'll find new tips that will help boost your experience this year, too!
Search and Research
Do some advanced scouting and get a feeling for what appeals to you in different booths and table setups. Surf the web for listings (the Opus Art News Listings are a great resource!) and check the bulletin boards at community centres and your local Opus for upcoming markets in your area and beyond that would be a good fit for your work.
Check out websites like Pinterest with searches like "market stalls", "art market display", and "art fair table inspiration" to gather some ideas, and make notes and sketches about the things you like. Take a weekend trip to local markets and have a look at displays, booth set ups, and small–scale marketing tools — gather ideas that would work for your set–up and aesthetic.
Prepare
One of the best things to do when you're preparing to sell your wares in a market situation is to consider what your circumstances will be: what will be provided at your location (table and chairs?), and what do you need to bring? Will there be walls in your immediate space? Will you have power at your table? Will there be enough light in your space or do you need to consider how you can light it?
Will you be there on your own all day or do you have a friend, relative, or someone you've hired to help during your peak times, and relieve you for a coffee, lunch or washroom break? Is it indoors or out? Tented or exposed? How will you transport your booth contents to and from the venue? Casting a logical eye towards the event means you'll have a better idea of what you'll need to make it a success.
Display & Protect
Once you've got a clear idea of what your booth or table space will be like, you're ready to decide how to display your artwork. If you've got wall space in your spot, you'll most likely be able to hang some pieces there. If you don't, you may have to be more inventive with how you show your work. Consider showing larger framed pieces on easels. This adds artistic flair, as well as some height and interest to your display. Smaller, lightweight pieces may be clipped to ribbon or twine that is strung between tent poles or booth supports. One thing informs another, and knowing how you will be displaying your work will give you ideas on how you can prepare and protect your art for the sale.
There are a few ways to prepare your artwork, whether on paper, canvas or panel. Art pieces on paper should be protected, as the paper itself can be fragile and prone to getting fingerprints when handled. The least expensive way to protect artwork on paper is with a Crystal Clear Bag. These plastic sleeves with adhesive on the fold over closure (very much like the packaging you'll find on high–end greeting cards) will offer protection from a small amount of moisture in the air, as well as from the oils on the hands of your customers. They are available in a wide variety of sizes and they add both protection and a polished look.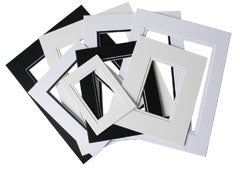 Add a mat backing, foamboard, or coroplast if you'll be showing your work in a box or basket and want to keep your pieces from getting bent as customers flip through them. Using ready–made pre-cut mats offers a professional touch and increases the perceived value of the piece.
When framing works on paper, there are a few advantages to purchasing Opus BOD Wood Frames or Opus Metal Exhibition Frames in Shipping Packs of Five (available online and by phone only).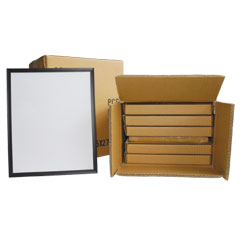 They are great for transporting your artwork: each framed piece can be repacked into the original frame box for easy transportation, and they'll fit compactly back into the shipping pack box. Add a little extra padding for safety and you have a compact solution for moving 5 framed pieces by hand.
Tip: If you're selling digital prints as well as originals, keeping a list of your best–sellers will allow you to order accordingly for your next show.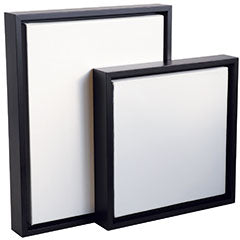 Works on canvas or cradled panel can be treated in a few ways. While canvases with white, black, or painted edges may be displayed as they are, framing these pieces will offer protection, presence and a professional polish, as well as increasing the perceived value of the work. If you've used standard–size surfaces, you'll find it's a breeze to get ready made frames like Opus Wood Canvas Frames, Opus SUMO Frames, and Opus SOLO Wood Frames.
Opus Wood Canvas Frames and Opus SUMO Frames are both front loading frames that give artwork the appearance of "floating" in the frame. a href="https://store.opusartsupplies.com/sagro/storefront/store.php?mode=browsecategory&category=3999″ target="_blank">Opus SOLO Wood Frames are built with moulding remnants and are available in a random selection of styles, from very simple to over–the–top ornate. Because of the "random" nature of this product, you may only see one like it in our stores, so when you find one that works with your piece, it's best to pick it up right away.
Vary your Stock
Adding more products can be a breeze! Do–it–yourself digital cards like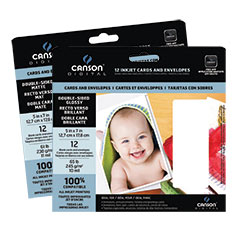 Canson Digital Cards, Moab Entradalopes and Strathmore Inkjet Cards can be created by you using your home printer, and offers buyers with smaller budgets a way to take home a piece of your art, too. Customize textiles like t–shirts, cotton bags, and bunting with your own images and transfer paper. When there is a variety of stock on hand, you may attract sales from people who are shopping for functional or wearable items as well as those who are on the hunt for art they love.
Promote yourself!
While selling your work the during the market may be the primary plan, think about how you can promote yourself not only in advance of the sale, but during and after the event as well. Do you have a website or a blog that you can post information about the upcoming sale? Tell your friends, shout it out to your social media followers on Facebook, Twitter, or Instagram, post it on your blog or website; and, while you're at it, post it in the Opus Art News online. It's free to post your event with us, and our readers are very interested in the arts. However you can get the word out that your art will be available for sale, do it!
Make Your Lists, Check Them Twice!
A set–up list, as well as a list of sales and self–promotion items you'll pack, made well in advance, can bring a feeling of preparedness and confidence. If you find yourself wishing you'd brought something else, make sure that you add it to your list and you'll have a great resource for next year, too!
To help you get started, check out our downloadable starter lists!
Art Market Supply Checklist – Part 1: Booth
Art Market Supply Checklist – Part 2: Sales & Self Promotion
Brand Yourself!
Maybe you have a logo that you've developed or a great studio name you want to promote with — this is a great time to use it! Market your table with a banner with your logo and studio name, or make signs to advertise what you're selling. Custom title cards and business cards can be a nice touch, and add a professional look to a wall of framed art.
Think about the outside of the box & inside the booth! Opus' Fine Art Digital Printing & Mounting Service isn't just for fine art digital printing — design a sign and order your custom sign on gloss canvas, add grommets or dowelling to it to hang it as a banner style sign, or print it on paper, frame it and hang it behind your table. Making your space visible with a logo or studio/business/artist name will help folks who are looking for you find you, and those who are just discovering your work remember you for next time. Plan it out carefully, and you'll be able to use this signage for years of market–selling to come.
Keep Things Tidy
Finding a balance when setting up the display can be a fun and interesting challenge. The ideal is to have a booth that is welcoming, but not overwhelming. Bringing a table cloth or covering that reaches to the floor will allow you to store extra sale items, duplicates of things like cards or prints, as well as the boxes and containers that you brought your items in with.
Customer ServiceSelling your art work is exciting, and you may find yourself busy attending to one customer as another approaches. You may want to think of how you'll handle having more than one customer at a time. How can you break–off from one so you can welcome another person, or answer a question? You don't want to miss a sale because you're trapped chatting to only one of your customers.
Consider having a little gift with purchase for high–end customers.Those who are buying your work as a gift may enjoy receiving a gift card with your artwork printed on it as a bonus.
Grow Your Customer Base
The market is a great place to meet people, and if they're looking at your work, and having a good time, they may want to have the experience again. Have a sign–up form ready to give fans of your work the chance to opt–in to receive updates on what you're working on, notifications of future exhibitions, or your next market announcement. Make sure you comply with Canadian Anti–Spam Legislation rules regarding the collection of contact information and what kind of email communications you can send.
Prepare for after the event
If you're going to be collecting a list of customers who want to be on your mailing list, prepare an email before the market starts. Thank them for stopping by your booth, and let them know what to expect as a subscriber: How often will you email and what will your emails consist of? How else can they follow you (blog, website, Facebook, Instagram, Pinterest, Instagram, or other social media outlets) and how can they unsubscribe if they don't want to continue receiving these communications? Having an email prepared in advance means that you'll be ready to click "send" as soon as you've entered the new list of email addresses you gather, and you'll be on their radar once again. Keeping in touch with your art–show contact list is a really great way of marketing future events to people who are interested in the art you make, and building your own customer base.
Socialize!
We know there's lots of work to be done when you're preparing for a market, but it's also a great time to meet some new artistic connections. If a Vendors List is available for the show you're participating in, have a look through it and see who you might want to connect with. Are there artists whose work you admire that you might like to meet or whose work complements yours nicely? Is there anyone you would like to do exchanges with? Meeting the person at the table next to you may mean that you can cover each other for momentary breaks. Making healthy connections with artists in this situation will help you build your arts community.
Live & Learn
Inevitably there will be things you wish you'd done differently. Make notes on a Opus Essential Sketchbook for next year so you can avoid the same issues. If you're too late to apply as a merchant at a particular show, try to attend it and see if it's one you'd like to be in next year. Keeping notes about all of the shows you want to apply for, and all of the things you'd change next time, means you'll have all the details nailed into place and can build on the success of each show.
Once the sale is over and you're back home or in your studio, think about the sale and all of the artists and art–loving customers you've met. Enjoy the satisfaction of looking over your new email list. Begin dreaming about your next art market experience and what it will look like. How will you plan for future sales, and move forward in your success? •