Against the Grain
February 24, 2012
Painting on wood is a practice that has existed for centuries and it's easy to see why this surface has maintained its popularity. Wood offers a durability that flexible surfaces can't. The rigidity prevents the artwork from cracking and protects it from being torn or dented. Panels also lend themselves beautifully to media that benefit from a rigid surface, such as encaustic work.
Some artists opt for cradled panels out of aesthetic rather than practical reasons. When sanded, the smooth surface facilitates fine brushwork and colour blending with ease. The solid wood cradle (frame on the back) provides a strong foundation, helps protect against warping, and allows for easy hanging. Sand the edges to allow your creation to flow beyond the face of the panel.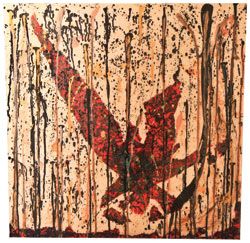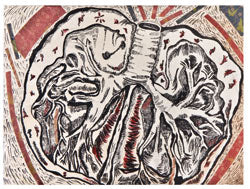 Mixed Media on cradled panels
Start your artistic journey on the right foot by preparing your surface correctly. If unprepared, the acid in the wood pulp will leach it's way through your paint layers and yellow the paint over time. Priming and preparing is often a matter of personal taste but here are some suggestions to help you along your way.
Start by gently sanding your unfinished wood surface to remove any splinters or small imperfections. Then, wipe your unfinished wood down with a slightly damp cloth to remove any sawdust or grit that's lingering on the surface.
Apply a couple of coats of acrylic medium (Golden GAC 100 is recommended) or glue to the entire panel, front, back and sides. This sizing process will seal the wood permanently and will be the first layer of protection on the front, and will be a barrier against moisture penetration on the back. Plus, the sealer will keep the wood from soaking up all of your precious paint.
The next stage is applying a ground to suit the media you'll be using. Gesso is generally used for oils and acrylics.
Cover the sides with masking tape if you want to keep clean edges. Using a wide brush, paint a layer of gesso on and allow to dry. Generally gessos are white in colour, but clear and black gessos are available at Opus. You can also tint your own gesso with powdered pigment or acrylic paints. If you're an acrylic painter and wish to keep the wood grain visible the sizing process with Golden gac 100 will act as a clear gesso.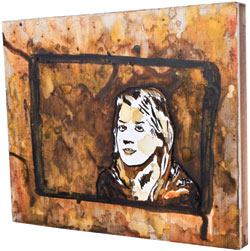 br>Watercolour on panel prepared with Golden Absorbent Ground
When the gesso has dried, lightly sand the surface with a fine grade 400/grit sandpaper. A second coat can be applied any time after the first coat has dried. At least two coats of ground or primer should be applied. The more coats of ground or primer that are applied, the smoother the surface will become.
A cradled panel can also offer an exciting new surface option for watercolour. Prepare the panel, first with gesso, then with an absorbent ground that will receive your watercolours wonderfully. Golden carries a wide range of grounds for other media, such as pastels and silverpoint. Once complete, any watercolour or pastel work will also require a couple of layers of fixative to prevent moisture from damaging the artwork.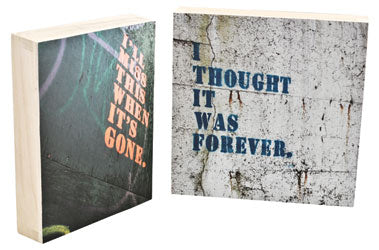 br>Digital photo prints on canvas mounted on cradled panels
Try mounting your photography to a prepared panel (visit opusartsupplies.com
/cradledmount for a video how–to). Cradled panels offer a dynamic presentation for digital photographs printed on archival fine art papers or canvas.
Sometimes it's good to be rigid! Add wood cradled panels to your arsenal of surfaces and add an interesting new element to your artwork.